One of the more insidious causes of fatigue could be the prescription medication you're taking! 
That prescription your doctor wrote to you, to help improve symptom ABC, could actually be a sneaky cause of fatigue. While the effect of most medications is overwhelmingly positive, there are unwanted side-effects – like fatigue – found in some of the most commonly prescribed medications.
If you haven't already, check out my post on how cholesterol medications cause fatigue. Cholesterol medications or, statins, are the most prescribed medications in the world. (1) And fatigue is one of the most common side-effects associated with statins!
In this post, I'll show you three other commonly prescribed medications that are each known to cause high levels of fatigue. Let's jump in!
1. High blood pressure medication
Blood pressure is the force of your blood pushing against the walls of your arteries. (2) If you think cholesterol levels are out of control in the USA and Canada, wait until you hear about blood pressure. One in three adults has high blood pressure. And another one in three adults has something called pre-hypertension, or, blood pressure that is elevated outside healthy ranges but not quite considered high blood pressure. (3)
That's two out of every three people (or, 67%) of the population that has blood pressure issues.
To combat the epidemic levels of high blood pressure, doctors prescribe a vast array of medications aimed at decreasing the pressure on your arterial walls. One of the more commonly prescribed blood pressure medications falls under the category of beta-blockers.
Beta-blockers were originally developed to help heart attack survivors to avoid a second attack. (4) Beta-blockers work by blocking the receptor sites for adrenaline (epinephrine and norepinephrine). (5) As you probably know, the adrenaline hormone is incredibly stimulating – it's part of the fight or flight response of your sympathetic nervous system. When you're stressed, adrenaline gets released and causes constriction of your blood vessels. When you constrict your blood vessels, you increase your blood pressure.
By blocking adrenaline, you stop your blood vessels from contracting. This results in lowered blood pressure. But restricting activation of your fight or flight response comes with some unwanted side effects. One of the most common is fatigue.
But before you go asking your doctor to change your medication, know that beta-blockers have also been shown to have some benefit in those with chronic fatigue syndrome. In CFS, patients typically report a symptom known as orthostatic intolerance (OI). Orthostatic intolerance is the development of symptoms when standing upright that is relieved when lying down or reclining. (6)
Beta-blockers have been shown to help regulate the blood pressure of patients with orthostatic intolerance. (7) If you are dealing with fatigue that does not present with orthostatic intolerance, have a conversation with your doctor about changing your blood pressure medication.
There are several alternatives to beta-blockers. One of the more commonly prescribed is called angiotensin-converting-enzyme (ACE) inhibitors. While fatigue is still a listed side effect with ACE inhibitors, the prevalence is less intense when compared to beta-blockers.
Other blood pressure medications, known as diuretics, can be an insidious cause of fatigue. Diuretics increase your urine output by increasing the excretion of water from your body. By flushing out all this water, diuretics decrease the volume of water in your arteries. A decreased volume of fluid in your arteries results in lowered blood pressure.
Some of the more common symptoms of diuretics include: (8)
Fatigue/lassitude
Muscle weakness
Depression
Confusion
Constipation
In cases where your blood pressure does not regulate with the use of one medication, diuretics are often combined with other blood pressure medications. Combining two medications that have fatigue as a known side-effect will most certainly affect your energy levels.
Let me be clear that I am not advocating you stop your blood pressure medication. These medicines save thousands of lives. But while you're on blood pressure medicine, you could work with a knowledgeable functional medicine practitioner to help you uncover the root cause of both your fatigue and your high blood pressure.
2. Antidepressant medication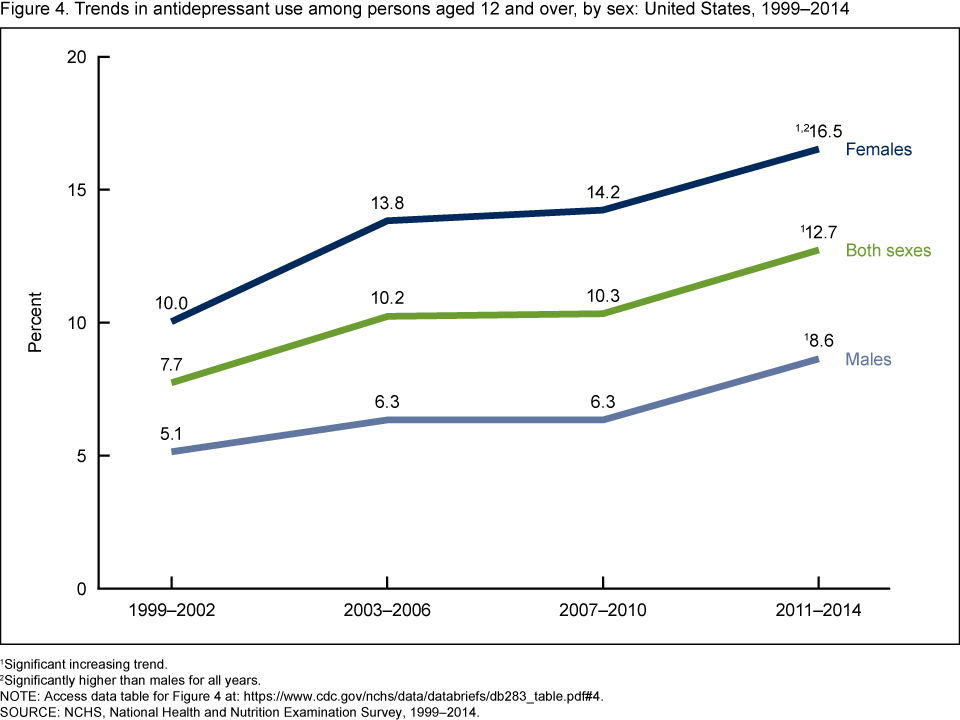 Antidepressants take the third spot in the rankings of most commonly prescribed medications. Second only to cholesterol and blood pressure medications. (9) Women are more than twice as likely to be prescribed antidepressants than their male counterparts. (10)
At the time of this writing, nearly one in five females will be on an antidepressant. In the past fifteen years, there has been more than a 65% increase in the number of antidepressant prescriptions written each year. (11) By most estimations, the prevalence of antidepressant use will only continue to grow.
My colleagues, Chris Kresser and Kelly Brogan, have written extensively on depression – and the overprescribing of antidepressants.
Did you know: 7% of all visits to a family doctor result in a prescription for antidepressants. (12)
These prescriptions for antidepressants are often handed out without an actual diagnosis. Click on either of the above hyperlinks for a deeper dive on the inner workings of depression from a holistic point of view.
It's well beyond the scope of this post to dig into whether or not antidepressants are effective. Suffice it to say that there is a lot of evidence that suggests antidepressants work as well as a placebo – and not really any better than that. (13)
As the name implies, antidepressants are often prescribed to treat depression. But they're also given out to treat:
Anxiety
Eating disorders
Chronic pain
Smoking cessation
PMS
Fatigue, as you may well have guessed, is one of the more commonly reported side-effects of antidepressant medications. The symptom of fatigue is more commonly reported in a type of medication known as tricyclic antidepressants. Today, selective serotonin reuptake inhibitors (SSRIs) or serotonin-norepinephrine reuptake inhibitors (SNRIs) are the more commonly prescribed antidepressants.
But fatigue is a prevalent symptom in both SSRIs and SNRIs as well. Antidepressants work by keeping neurotransmitters (serotonin & norepinephrine) in the spaces between your nerve cells for longer periods of time. While this may improve your mood, it also has a cascade of side-effects. One of which is affecting both histamine and acetylcholine levels in the brain.
Excess histamine in the brain is associated with a number of strange symptoms including obesity (14), cardiovascular disease (15), and cognitive issues. (16) It is hypothesized that too much (and even too little) histamine in the brain causes fatigue, brain fog, and decreased cognitive performance. (17) All of these unwanted side-effects can come about through antidepressant use.
I've not even begun to talk about stopping antidepressant medication. Antidepressant withdrawal can create a number of symptoms including: (18)
Fatigue
Nausea
Insomnia
Flu-like symptoms
Anxiety
The experience of unwanted or negative side-effects after stopping or reducing antidepressants is known as discontinuation syndrome. The longer you've taken an antidepressant, the greater your risk of experiencing discontinuation syndrome. (19) Up to 50% of people taking antidepressants will experience discontinuation syndrome once they start to decrease their dose. (20, 21)
In summary, both starting or stopping antidepressants can cause fatigue – and a number of other unwanted side-effects. I recommend exploring the inflammatory theory of depression before starting antidepressant medication. This could save you from years of debilitating levels of fatigue.
3. Antibiotics
The invention of antibiotics is likely one of the most important discoveries in human history. They save countless lives every year. There is no denying their effectiveness. But in recent years, the prescribing of antibiotics at incredibly high – and often unnecessary – rates have started a cascade of adverse effects.
Antibiotics are classified based on their chemical structure. The five general categories of antibiotics include: (22)
Beta-Lactams
Macrolides
Fluoroquinolones
Tetracyclines
Aminoglycosides
Fluoroquinolones are the newest class of antibiotics. Unlike traditional antibiotics – like penicillin – that were derived from bacteria, fluoroquinolones are entirely synthetic. Some of the more common antibiotics that fall under the fluoroquinolones class include:
Clinafloxacin
Ciprofloxacin
Gatifloxacin
Levofloxacin
Lomefloxacin
Ofloxacin
Sparfloxacin
Trovafloxacin
Fluoroquinolones save lives. They're incredibly important at helping treat bacterial infections that are resistant to some of the older classes of antibiotics. But when fluoroquinolones are doled out for the common cold, mild ear/chest/throat infections or other conditions that will typically resolve on their own, serious side-effects can occur.
Using an antibiotic like Ciprofloxacin for a cold is like using a grenade to kill a mosquito. Sure, you may kill the infection – if it's bacterial in nature; though most colds are viral – but you'll leave a swath of destruction in its wake. Amidst that destruction can be intense levels of fatigue.
Some of the more common unwanted effects of fluoroquinolones include: (23)
Inflamed or torn tendons
Muscle pain or weakness
Joint pain or swelling
Difficulty walking
Feeling pins and needles sensations
Burning pain
Fatigue
Depression
Problems with memory
Sleeping
Altered taste and smell
There are multiple cases reported every year that fluoroquinolones have caused strange illnesses like fibromyalgia and/or chronic fatigue syndrome. (24) Fluoroquinolones need to be prescribed judiciously. They cannot be handed out for anything. If your fatigue began after a course of antibiotics, you could be dealing with an antibiotic-associated illness.
I don't want to scare you out of taking antibiotics for infections that would benefit from their use. Studies have shown that in healthy adults, taking short courses of antibiotic therapy does not negatively affect energy levels or athletic performance. (25) The key takeaway here is to use antibiotics when the situation warrants it. Do not use antibiotics for mild, self-limiting conditions.
If your doctor wrote you an antibiotic prescription for your cold, have a discussion surrounding why. Ask whether she thinks your cold is bacterial or viral in nature. You could even push for a swab and culture to ensure that your infection is bacterial and will respond to certain antibiotics.
If you use antibiotics sparingly, you'll be at a decreased risk of experiencing antibiotic resistance. The more antibiotics are used, the more resistant the bacteria can become because sensitive bacteria are killed, but stronger germs resist the treatment and grow and multiply. Repeated and improper use of antibiotics contributes to this process. Once a particular bacterium becomes resistant to an antibiotic, treating that infection becomes more difficult and in some cases, medically impossible. Untreated, bacterial infections can spread rapidly. (26)
Ok, now you know the medications most strongly connected to causing fatigue. Click here to learn more about how to achieve a fatigue-free body!
Now, I want to hear from you!
What medication have you found to substantially decrease your energy?
Leave your answers in the comments section below!