Certified Shoemaker Protocol practitioner Mark Volmer, FMP, R.Ac. is a CIRS doctor.
At Flourish Clinic, our Functional Medicine practitioner and CIRS doctor Mark Volmer is a certified Shoemaker Protocol practitioner. The Shoemaker Protocol is the only scientifically proven, peer reviewed method to cure mold sickness, or CIRS (Chronic Inflammatory Response Syndrome). It is the best treatment for CIRS.
Through the Shoemaker Protocol, Mark helps patients who suffer from mold illness and CIRS get their life back.
If you are suffering from unexplained symptoms and have no idea what to do, you're in the right place. Our Functional Medicine practitioner Mark Volmer is a chronic inflammatory response syndrome doctor.
---

Contact us today to schedule your free, no obligation phone consultation and find out if mold sickness is affecting you!
---
How we cure mold sickness
The only scientifically validated treatment for this condition was created by Dr. Ritchie Shoemaker, MD. He has also led the fight for CIRS to be a recognized medical condition. CIRS treatment is known as the Shoemaker Protocol.
Our cirs doctor Mark Volmer, FMP, R.Ac. did his CIRS training with Dr. Shoemaker and Dr. Heyman through the American Academy of Anti-Aging Medicine (A4M).
He is listed on the Surviving Mold website, and consults regularly with Dr. Shoemaker. He is certified to guide you through each step of the Shoemaker Protocol so that you can regain your health. The Shoemaker Protocol is the best mold illness treatment in Alberta.
Mark will work closely with you through the 12 steps of the Shoemaker Protocol. Mold sickness is confusing and can take more than a year to cure. However, the Shoemaker Protocol is the only scientifically proven method to cure cirs or mold sickness.
If you are suffering from a variety of mysterious illnesses and symptoms it's time to work with us. Contact us to set up a complimentary 15 minute phone chat with Mark to learn more.
---
Learn more about mold illness by downloading our ebook Flourish Clinic on Mold Sickness here: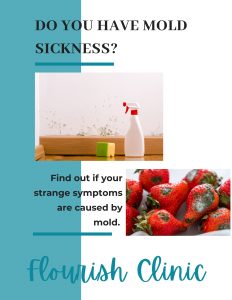 ---
If you have mold sickness you may experience:
Debilitating fatigue
Unusual body pains
Headaches
Sinus problems
Memory issues
Mood swings
Tremors
Mold illness can also cause:
IBS (Irritable Bowel Syndrome)
CFS (Chronic Fatigue Syndrome)
Fibromyalgia
Multiple Chemical Sensitivities
Mast Cell Activation Syndrome (MCAS)
When most people are in a moldy environment they react, but their symptoms of mold sickness clear up when they are no longer around mold. However, about 25% of the population have the genes to develop a chronic immune response called CIRS (Chronic Immune Response Syndrome) when they are exposed to mold.
When these people are in a moldy environment their body can't get rid of the mold. Ever. Their immune system does not turn off and they develop serious, seemingly unrelated symptoms like IBS, chronic fatigue and Fibromyalgia.
The Possible Causes of Mold Illness
The main source of toxic mold exposure comes from water-damaged buildings. And they're far more common than you may think. In fact, up to 50% of all building structures have water damage resulting in mold growth!
You could be living in a moldy home and not even know it.
The good news is that for most people the mold illness will go away once the mold is found and cleaned up.
---

Learn more about mold illness by downloading our free ebook Flourish Clinic on Mold Sickness.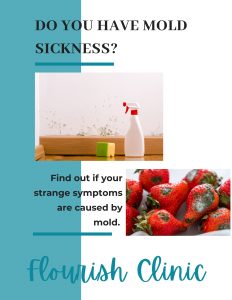 3 reasons to download this free guide today:
To start making sense of your odd, seemingly unrelated symptoms
You will learn more about mold and its presence in our every day lives.
To find out why your body is reacting this way, and how you can get control back.
---
Mold illness and chronic inflammation
Unfortunately, it's not that easy for about 25% of the population. Their bodies can't expel the toxins, even when the source of the mold is gone. This is because they have a gene that causes chronic inflammatory response syndrome, or CIRS.
If you have this gene, your immune system is unable to expel the mold toxins (mycotoxins). Therefore, if the toxins never leave your body, your immune system creates inflammation.
Unfortunately, this inflammation becomes chronic. This exposure can cause to mold can cause symptoms similar to IBS, CFS, Fibromyalgia and multiple chemical sensitivities.
If this sounds like you, it's time to work with us directly.