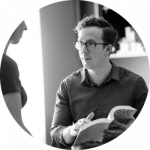 At Flourish we encourage all of our patients to make long-lasting, sustainable changes to regain their health.
With that in mind, we have created two hands-on programs. These programs enable you to work directly with our practitioners to get to the root of your health issues. As a result you will make changes that will last.
What you eat directly affects your health. During this program you will work directly with Ali Frederick, RMT, DOMP, and Sheena Huculak, RN, RHN, Bulletproof Coach. Over six months you will identify the foods that negatively affect your health (the results may surprise you!) and learn how to make sustainable changes.
Learn more about Fatigued to Flourishing.
Contact us to set up a complimentary 15 minute phone chat to see if Fatigued to Flourishing is right for you!
Our Functional Medicine practitioner, Mark Volmer, FMP, R.Ac. is a certified Shoemaker Protocol practitioner. The Shoemaker Protocol is the only scientifically proven, peer-reviewed method of treating CIRS.
Read more about how Mark treats CIRS.
Contact us to set up a complimentary 15 minute phone chat to learn more about our CIRS Treatment Program.
Already in the treatment program? Log in to The Shoemaker Protocol:Explained.