Flourish Clinic Cochrane, Alberta
At Flourish Clinic our focus is to help you regain your health so that you have the energy to share your gifts and passions with the world.
When we're healthy, we have the energy to pursue our passions.
When we're sick, we're tired. All we can think about is getting better.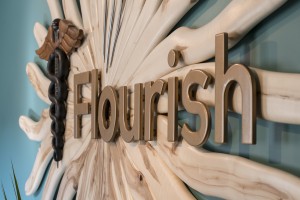 The practitioners of Flourish Clinic: Jane Prescot, Johanna Kalkreuth,  Mark Volmer, Sheena Huculak and Steph Perryman use a wide variety of modalities.
These include:
Jane Prescot, FMCHC
Shoemaker Certified Proficiency Partner Diplomate
Functional Medicine Health Coach
Johanna Kalkreuth, Registered Psychologist
CIRS-specific counselling
Counselling for adults, adolescents, children, couples and families
Mark Volmer, R.Ac, FMP
CIRS Treatment
Functional Medicine
Acupuncture, Laser Therapy & Shock Wave Therapy
Sheena Huculak, BN, CHNC
Holistic Nutrition
Nutritionist and Health Coach
Coaching
Steph Perryman, RMT
Zen & Tucker, therapy dogs
---
Our Practitioners at Flourish Clinic
Jane Prescot, FMCHC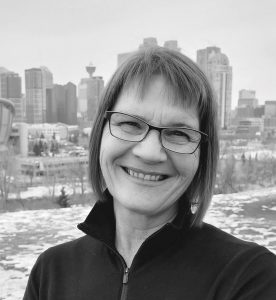 Since her diagnosis with CIRS, Jane feels that she has been preparing to work with the team at Flourish.
While working as a Registered Nurse, Jane started experiencing a series of bizarre symptoms – symptoms that are all too familiar to those suffering from CIRS.
Eventually she realized she always felt better after leaving her office. Jane finally connected her symptoms to her environment and finally realized it was mold exposure that was making her sick.
Fortunately, when Jane ran a google search she came upon the Surviving Mold website, where she was able to learn about the Shoemaker Protocol, the only scientifically proven, peer-reviewed method of treating CIRS. She passed this information on to her family doctor, who believed her and started her on cholestyramene, a binder which stabilized her symptoms. Her doctor also recognized that he was not able to help her further and referred her to a local Functional Medicine practitioner.
CIRS Testing
Unfortunately, Jane did not realize that there is testing specific for the Shoemaker Protocol, and ended up paying for a number of unnecessary tests.   This quickly depleted Jane's funds.
When she was able to return to work, she asked her long time employer to run the CIRS specific ERMI and HERTSMi testing to ensure her office environment would be unlikely to cause a relapse of her CIRS symptoms. Instead, they fired her. Jane took her fight to the Workers' Compensation Board and the Alberta Human Rights Commission. You can read about it here:
Prescot v Alberta Health Services, 2023 AHRC 30 (CanLII)
She shared her experience at the 2022 annual CIRSX Conference. You can watch her presentation (#17) here:
Fighting Back – A Canadian Story with Jane Prescot
As a result, Jane was forced back into the workplace, and it wasn't long until she was experiencing a recurrence of her CIRS symptoms. She also had to limit all outings, never knowing if the environment she was entering would be contaminated.
It wasn't until two years later, when she found a building to work in that did not trigger her symptoms, that she was finally able to fully recover her health.
Joining the Flourish Clinic CIRS Team
Motivated by the desire to become the support she wished that she had had when she went through her health journey with CIRS, Jane became certified as a Functional Medicine Health Coach, and then Shoemaker certified as a Proficiency Partner Diplomate. Now Jane works with individuals with Chronic Inflammatory Response Syndrome and other environmentally-related illnesses.
She strictly follows the Shoemaker Protocol, as she has had first hand experience of how successful it is at treating this complex and confusing illness.
Recovering from environmentally-related illness doesn't just mean getting your health back; it means getting your life back. No one knows this better than Jane. She is thrilled to join the Flourish team so she can help guide others as they too regain their lives.
Jane lives in Calgary, Alberta with her husband. She loves growing her own food and taking long walks.

Johanna Kalkreuth, Registered Psychologist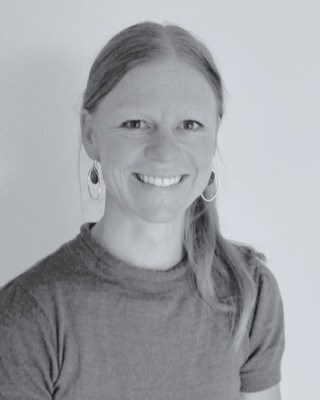 Johanna offers counselling for:
adults,
adolescents,
children,
couples,
families
However, her primary focus at Flourish Clinic is working with patients suffering from CIRS (Chronic Inflammatory Response Syndrome). She understands CIRS patients have a history of trauma, and working through this trauma is key to recovery.
She addresses anxiety, trauma, relationship issues, depression, anger/aggression, and other emotional/behavioural issues. It is her belief that effective counselling incorporates working with the whole human being – including the mind and the manifestation of emotional experiences in the body.
Johanna's approach integrates mindfulness and cognitive interventions with somatic body and movement work.
Johanna focuses on really getting to know her patients as individuals. She also looks closely at their experiences in relationship to others, self and the environment. She believes every client has a unique path to healing. This is why she works to facilitate this journey with openness, warmth and a clear path toward achieving therapeutic goals.
Johanna is a Registered Psychologist, and incorporates training and experience in mindfulness, attachment, and emotion-focused therapy in her work.
---
Mark Volmer, R.Ac., FMP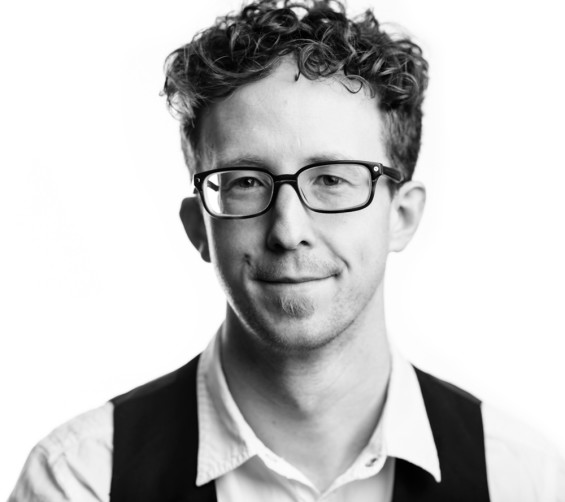 Hi, I'm Mark.
As the Functional Medicine practitioner, acupuncturist, and researcher at Flourish Clinic, I empower people just like you to beat fatigue (for good!) and focus their energy towards their passions. I studied acupuncture at MacEwan University and Functional Medicine at the Kresser Institute in Berkley, California. I practice Functional Medicine, specializing in fatigue-related illnesses.
For me, health is so much more than the absence of disease. Health is a superior state of well-being.
But, it wasn't always that way for me…
In my twenties, I was exhausted. And completely lost. Every morning was a struggle to get out of bed. I didn't want to go to school or work. But, I was healthy, or, so I thought. I was exercising multiple times a week, ate a "nutritious" diet (according to the Canada food guide), and my lab tests were impeccable.
To combat the (now overwhelming) fatigue, I saw medical doctors, chiropractors, acupuncturists, energy healers, and shamans. All tried to help me get my chutzpah back. But it didn't work. I was still tired all the time.
It wasn't until I sat cross-legged in a 10-day silent meditation retreat that I had an a-ha moment:
My fatigue was not caused by a medical illness. It was a sign that I was not living a life aligned with my values. Meaning and purpose were missing in my life.
I left that retreat with a renewed sense of purpose and lots of energy. I was convinced that I wanted to study natural medicine. And that fatigue could be overcome by living a life aligned with your values.
I was so wrong.
Shortly after receiving my acupuncture license, I got tired again. Really tired. All that meaning and purpose I had in my life suddenly vanished. Another silent meditation clued me in.
Purpose and meaning are not finite destinations. They are processes. We have to keep working at them.
But in my work with patients, meaning and purpose didn't help everyone. Neither did acupuncture. If I'm being completely honest, it hardly helped anyone. There had to be other causes of fatigue. What was I was missing in my training?
I dove into the medical research. Studied Functional Medicine, read every book and medical journal there was on fatigue. I learned that treating fatigue involved so much more than creating meaning and purpose. I learned the food we eat plays a pivotal role in our body's ability to create energy.
I've spent the majority of my career studying the different causes of fatigue. It is one of the most complicated and multi-faceted conditions to treat. Its cause is often due to a combination of issues, including:
Cortisol imbalances
Unknown dietary allergies and/or sensitivities
Hidden gut infections
Blood sugar irregularities
Toxic mold exposure
And yes, even a lack of meaning or purpose in our life
Do you know the #1 reason why we stop pursuing our ambitions? I don't either. But in my work with over a thousand patients, I've discovered that a lack of energy always plays a role.
I know that you have a unique gift.
At this point, you may be too tired to even think about that. But believe me, there's something special inside of you. And when you share it with the world, we all benefit. And that's why we created Flourish Clinic. To help you overcome fatigue and get back to sharing your passion(s) with the world.
To the right of the screen, there's a sign-up form for my free e-Book. Please check it out. It has information about the 4 hidden causes of fatigue. Plus, unique strategies to overcome each!
I hope I get the opportunity to work with you at Flourish Clinic in the not so distant future.
Warmly,
Mark 
---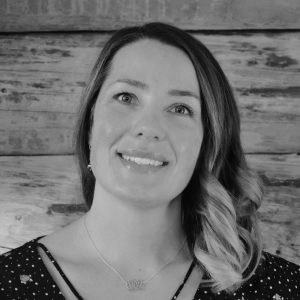 Sheena Huculak, BN, CHNC
Hi! I'm Sheena Huculak
As a Holistic Nutritionist and a Bulletproof Coach™  at Flourish Clinic, I am committed to helping our patients:
Learn to nourish their body in a healthy and sustainable way;

Make powerful lifestyle shifts ;

Achieve their personal health goals. 
I graduated from the U of C Nursing program in 2004 and worked as a Registered Nurse for more than 10 years.
However, it wasn't long after I began nursing that I started to realize there was a huge missing component in conventional medicine. This led me to question what role diet and lifestyle play in the disease process. To find out I began studying with the Canadian Society of Natural Nutrition and graduated as a Certified Holistic Nutritionist in 2006. 
My passion for health and wellness has grown and evolved immensely over the past decade and I have continued to learn and grow in the thick of my own health journey as I navigate autoimmune diseases.
I am a mother of two, a wife, a daughter, a sister, a friend and a health coach! I love natural health and strongly believe that that body can self heal. You can find me eating chocolate, watching movies with my family, walking my dogs or diving deeper into health books and podcasts!  
In short I am a big health nerd. I love learning and I can't imagine doing anything other than helping people learn about food and nourishment, and health and wellness to feel their best in their body!
My Health Journey
Shortly after my daughter was born in 2012 I was diagnosed with a number of hormone-related issues as well as Celiac disease. All were closely linked to stress. I was trying to do so much and be so much it was exhausting and prompted disease. I had to make some obvious changes, including eliminating gluten and starting on prescription medication for my thyroid. This was around the time I was introduced to Bulletproof Coffee.
I was still working as a nurse and for any nurses out there, you know how much we love and rely on our coffee! Bulletproof Coffee was an absolute game changer for me.  I increased my fat intake significantly (growing up in the 80's instilled a fat phobia in me for sure), I cut out grains, dairy, sugar and literally came to life again with abundant energy and an excitement about the future.
​In 2015 I had a calling, (well actually it was an email) to go to California to train as a Bulletproof Coach.  That weekend completely changed the trajectory of my life. I learned to connect with others through the heart instead of the head. Learning to listen from that space shifted my whole world.
Instead of being a problem solver (or know it all) I learned how to be truly present with another. It changed my relationship with my family and with myself, it manifested new friendships and partnerships in business and life.
Then mold struck.
We had been living on our acreage for a few years already when we experienced a massive summer storm in 2019. Heavy rain breached our front door, drenching the whole front entrance into our kitchen as well as down into the basement and (though we didn't know it at the time) into our cold room below.  As you do, we dried it all up best we could, aired it out for a while then thought nothing more of it.
However, I started to feel increasingly awful and didn't know why. My symptoms included:
Constant fatigue and irritability;

Brain fog,

Trouble concentrating,

Weight gain for no reason,

Forgetting simple day to day things, like words for common objects or even the names of my kids!  
I felt constantly inflamed and felt so uncomfortable in my own body. My marriage was suffering and I pulled away from friendships and opportunities unsure where I would get the energy from. I was not showing up anywhere as my best self and – needless to say – I was depressed, miserable and needed help!
Assuming I must be starting perimenopause, I blamed the obvious culprits, my hormones! I went to see Mark in May 2021 to test my hormones and help me figure out what was going on
Much to my surprise my hormones were in great shape!
Nowhere close to perimenopause yet. However, he realized I was experiencing all the weird myriad of symptoms of CIRS which traced back to the flooding of our home in 2019. After testing came back it was confirmed: I am one of about 25% of people who have a genetic susceptibility to mold illness and was suffering from CIRS.
It has been more than a year since my diagnosis and I am feeling much better! I have seen and felt shifts in my mental health, cognitive functioning and I am not so sensitive to, well everything anymore.  Some days I even forget that I'm sick, which is pretty awesome!  I know I still have some work to do but most days I feel pretty amazing.  
I am incredibly excited about my role at Flourish Clinic helping other CIRS patients and look forward to supporting you through this often confusing and lonely journey.
Check out my Instagram page where I offer inspiration and ideas for your healing journey.
---

Stephanie Perryman, RMT

Hi, I'm Steph. 
I'm a registered massage therapist at Flourish Clinic. Before massage therapy, I spent years working in the hospitality industry. I started as a teenage take-out employee at Swiss Chalet. Over the years I worked my way up in the industry moving from take-out, to server, to bartender, to shift leader and eventually restaurant manager at Chili's in the Calgary International Airport. Then, in 2017, I met my husband, Tyler. 
We had a whirlwind romance and got married the next year in 2018. We welcomed our first child, Brixton, in 2021. Tyler is a framer, carpenter, and construction worker; he basically builds houses. However, with his high risk job comes TONS of injuries, chronic pain, and fatigue. This includes frequent headaches, hip and low back pain from his toolbelt, frozen shoulder from firing a nail gun all day, and overall body stress from working.
Then, one day in July of 2017 Tyler fell from the roof of a house to the basement, about 27 feet. He was left with chronic back pain including compressed discs.
Wanting to help alleviate his pain, I started giving him massages him 2-3 times a week. However, as I didn't have any training, I felt insecure and incapable. 
So I decided to become a massage therapist!
I was welcomed in Vicars School of Massage Therapy in 2020.
Due to his chronic back pain Tyler was an ideal case study for both years I was in school. The first year was focused on relaxation. Even though I was only doing basic, simple massage techniques with Tyler I noticed an increase in his energy, he slept better, his appetite grew, he was getting more done at work and so much more! 
Then I entered year two. I started doing more complex techniques with Tyler such as joint play, active inhibition techniques, performing active and passive strengthening and stretches on the table, and giving more specific home care.
Not only did Tyler improve, but he greatly improved! His posture was better, the numbness and tingling down his arms went away, his sleep was more restful, and his overall muscle tone improved – in fact all the muscle imbalances he previously had in his body were getting better.
He was also able to get a house built in a few days rather than a week, he was more attentive with our little one, and he was so much happier.
How my journey will help you
After seeing all these changes in Tyler during my two years at Vicars, I knew from the bottom of my heart I could help others with their chronic pain, headaches, injuries (from work or from sports), and stress management. I see how acute and chronic pain can affect every area of your life and know that massage can make a difference!
During a treatment with me, I will ask you about:
your day-to-day life,

any pain you may be feeling presently or chronically,

limitations in how your body moves,

your last massage,

your expectations for this treatment
I will listen, not only with my ears but with my heart. I will provide a safe space for you to share what you need to say and truly listen to you. This interview is a crucial part of the treatment as it gives me a snapshot of your life and pain. It gives me an understanding of how this pain came to be and enables me to create the best treatment plan for you!
After the treatment, you can expect specific home care recommendations based on your chief complaint during the interview. This may look like stretches, strengthening exercises or recommendations to see other modalities such as a chiropractor or acupuncturist. I will then customize a treatment plan that best fits with your path to feeling better! 
I empower you to take charge of your pain and will always be available to help you along the way. 

Much love,
Steph
P.S. Check out my website, mindfultherapeutics.ca. Or follow me on Instagram for all sorts of health-related advice and information!
---
Zen & Tucker, Flourish Therapy Dogs
Flourish Clinic is proud to have two therapy dogs on staff.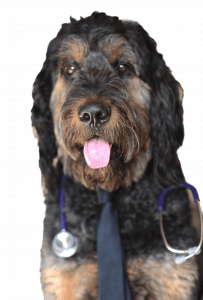 Zen is a large but calm presence at Flourish. He lives and works with Mark Volmer, Clinic Director.
Tucker is a sweet boy who lives and works with Johanna Kalkreuth, Flourish Clinic's Registered Psychologist.