At Flourish Clinic, our Cochrane massage therapists pride themselves on addressing and healing your health issues so you can get back to enjoying your life.
"I have visited many, many massage therapists in Cochrane and Calgary. None of them seemed to focus on my issues. They all seemed to follow the same flow or routine.

I was so frustrated with massage therapy.

Then I found Flourish Clinic."

~Kim
We make massage in Cochrane better
We hear concerns like Kim's every week.
At Flourish Clinic we are lucky to have two highly skilled, compassionate Cochrane massage therapists:
Ali Frederick, RMT, DOMP
Steph Perryman, RMT
Our Flourish massage therapists avoid following set massage routines. They performs specific range of motion tests to identify the source of your pain. Then, they will focus on your issue, spending the treatment time addressing your individual concerns. No set routines here.
What conditions do our Cochrane massage therapists specialize in?
Ali has expertise in working with the following conditions:
Acute and chronic pain management
Swelling (hands, feet, ankles, etc)
Lymph issues
Neck pain and/or tension
Mastitis
Abdominal bloating
TMJ, TMD, jaw pain and associated syndromes
Clogged sinuses
Diastasis
Abdominal and pelvic pain
Headaches/migraines
Sports injuries (especially CrossFit injuries)
Tendinitis (tennis elbow, golfers elbow, patellar tendonitis, etc.)
Stress management
Constipation
Low back pain
Steph specializes in:
Nerve issues with numbness and tingling, injuries that have caused chronic pain, headaches and migraines,
Jaw issues due to clenching and grinding,
Understanding how trauma or stress can affect every aspect of life, and teaching patients ways to cope and manage that stress.
---
Get to know our Cochrane massage therapists
We know that it's difficult to relieve pain in only one treatment. That's why our experienced massage therapist, Ali Frederick, creates a detailed treatment plan for every patient. She understands your concerns and helps you come up with a solution instead of only dealing with ongoing symptoms.
Ali gives you an end goal to relieve your pain, and a clear pathway to get there.
Ali believes that your treatment does not end when you leave the clinic. Instead, she empowers you with at-home stretches, exercises and dietary suggestions that will decrease the number of treatments needed to alleviate your condition.
Ali has additional training in:
Osteopathic techniques
Lymphatic drainage
Cupping therapy
Therapeutic breathing techniques
Fascial release
Visceral (organ) osteopathy
Movement therapy
Ortho-bionomy
Gluten sensitivities
Paleo and ketogenic lifestyle therapy
In some cases, massage alone cannot completely heal the condition. Ali is also a certified manual osteopath in Cochrane.  You can read more about her skills as a Manual Osteopath here.
Steph knows first hand that living an active lifestyle comes with its own set of challenges. These can include injuries, pain, strained muscles and joint issues.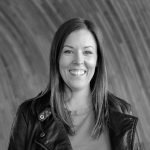 That's because Steph has always put what she loves first and wants to give her massage patients the same freedom. She prides herself on an active lifestyle, enjoying activities such as:
rock climbing in the mountains,
high intensity workouts in her basement,
heavy weight training in the gym,
and a variety of sports including volleyball, soccer and hockey.
Steph wants you to keep doing what you love, which is why she will create individualized treatment plans that include stretches and strengthening exercises you can do at home.
"I highly recommend Stephanie and her services! I've been working out for 8 years and if it wasn't for Steph, I feel like I would be a vegetable right now. She takes her time to listen, understand and really guides you through her process. She is kind and caring and it shows through her treatments. If anyone is looking for a new massage therapist, stop. Stephanie is here to help!"

~ Bethany
If you think Flourish is the right place for your massage in Cochrane, click the Schedule Your Appointment link below.
If you'd like to know more about our clinic, or the Flourish massage therapists, you can contact us here.
---
Ali is a superior massage therapist that I would recommend to my best friend and even to my own mother. If you have pain, stress or over worked muscles or even an illness that you need relief from, then I would book an appointment with Ali to end your suffering. You will not be disappointed.

– Stephen H.
Ali's massage techniques are very powerful yet don't leave me feeling beat up and sore. She listens carefully and finds the source of the problem. It's funny, I'm often amazed at how much she gets done in a session even though it's never rushed. Thanks for what you do!"

– Dean D.
---
How many treatments will it take before you see improvement?
Our Cochrane massage therapists have invested thousands of hours in continuing education. They suggest that most conditions can be significantly improved in 3-5 visits.
To expedite your recovery, Flourish massage therapists will empower you with at-home stretches, strengthening exercises, and/or relaxation techniques.
---
I would recommend Ali for massage therapy. She is extremely present to what's going on in my muscles and body while massaging me and for that reason her treatment hits the mark. It feels like there are no wasted strokes/fluff work. Each one has purpose based on what she is feeling in my muscles and she is responding to what's going on in me, rather than what's going on in her. That's the gift of presence.
– Tracy G
---
Is your Cochrane massage therapist covered by my insurance plan?
Yes.
Ali Frederick and Steph Perryman are Registered Massage Therapists (RMT) with the Natural Health Practitioners of Canada (NHPC). Their training and education allow them to write receipts for all insurance companies.
Are you a good fit for a Flourish massage?
Patients who do best under our care:
Do not want to rely on unnecessary drugs and medication as a permanent solution.
Want to discover the underlying cause of their problems, rather than just suppress their symptoms.
Are motivated to play an active role in their own healing process.
Will make the necessary dietary and lifestyle changes to support their health and well-being.
In addition, we find that many of our patients:
Know that diet, exercise, and other lifestyle factors play an integral part in healing.
Feel that a combined approach between allopathic and alternative medicines is the most successful path to wellness.
Know that effort is required to achieve healing – it is much more involved than swallowing a pill.
---
I've been seeing Ali on and off for over two years, initially due to chronic neck and back pain. Her sincere concern as well as readily sharing information about different colleagues helped further my progress quickly. She understands that everyone is different, and the body is a powerful piece to work with. From the email check-ups, to exhausting all options towards finding a change, Ali shows her care for her clients. Ali is a great therapist. I would recommend her to anyone who would like to see change, or who is in search of what could truly help outside of other modalities they've tried.
– Logan B.
---
At Flourish Clinic, our specialty is chronic, hard-to-treat conditions. A Flourish massage will get you out of pain. Fast. And for good.
If you'd like to know more about our clinic, you can contact us here.