Do you need a lymphatic drainage massage to address the root of your health issues?
Perhaps you're experiencing symptoms like swelling, edema, brain fog, and bloating?
These are the symptoms that come to mind when you think of your lymphatic system. But there is a wide range of other symptoms that don't scream lymphatics. The following are also symptoms of a lymphatic system in need of help:
Headaches
Weakened immune system
Constipation
Chronic muscle pain that doesn't improve with a regular massage or chiropractic treatments
Pooling of fluid in your hands or feet after sitting or standing
Feelings of fatigue or sluggishness
Does your lymphatic system need help?
The lymphatics are the scaffolding of your immune system. Without lymph, you'd never be able to transport invading viruses and bacteria out of your body!
To give you an idea of just how important your lymphatic system is, what do you think would happen if you severed one (just one!) of the deep lymph pathways in your leg?
You'd be dead within a couple of days.
This is how important your lymphatic system is. And it's hardly ever recognized by conventional and alternative medical systems. Since your lymphatic system has such wide-ranging effects on your body, the symptoms of impaired lymph are also wide-ranging – from headaches to fatigue to swelling. It all could be stemming from an impaired lymphatic system.
If you're struggling with a wide variety of symptoms – ones that no doctor can seem to make sense of – it's time to take a closer look at your lymphatic system!
How to properly treat your lymph in Cochrane
Lymphatic drainage therapy is a specialized treatment that gently assists your lymphatic system in maintaining your body's fluid balance, blood circulation, and immune mechanisms.
If you've struggled with swelling, edema, abdominal bloat, brain fog, constipation, a weak immune response, or other, seemingly unexplainable symptoms, then a treatment to support your lymphatic system may be just what you need.
Ali Frederick is a manual osteopath and massage therapist who specializes in lymphatic drainage massage in Cochrane.
Unknown to most, there are branches of osteopathy that focus exclusively on lymphatic drainage. Osteopathic training creates an in-depth understanding of where exactly your lymphatic fluid and lymph vessels are located throughout your body. A better understanding of your lymphatic system results in better treatment outcomes than just a lymphatic drainage massage. Osteopathy helps identify the root cause of why your lymphatic system is under duress.
Ali blends both her osteopathic understanding of the lymphatic system with conventional lymphatic drainage massage techniques. Combining both osteopathic techniques with lymphatic drainage massage allows Ali to uncover the root cause of your lymph issues. This results in fewer appointments and faster recovery time.
The Flourish Framework for lymphatic drainage massage in Calgary
Ali stands out from other therapists because she uses a four-step process in all of her lymphatic drainage massage treatment protocols. The four steps to move you from fatigued to flourishing include: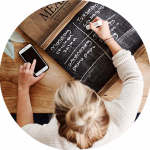 1. Identify underlying nutritional issues that may be affecting your lymphatic system
If the food you eat is clogging your lymphatic system, it doesn't matter how many lymphatic drainage massages you receive, you're not going to get better.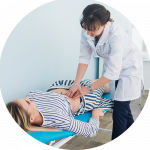 2. Diagnose and remedy any lifestyle factors that slow your lymph
Even regular exercise/workout plans aren't enough to move stuck lymph. You need targeted lifestyle advice to ensure the proper flow of your lymphatic system.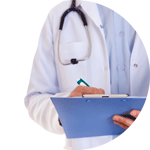 3. Create the perfect treatment frequency
Getting a lymphatic drainage massage once a year is not going to work. Nor is getting one 3x each week. Your condition is unique. Ali will provide a unique treatment plan tailored to your wellness goals.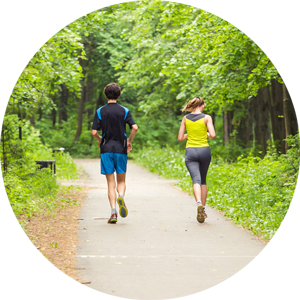 4. Step-by-step instructions on how to maintain your lymphatic system at home
Ali will teach you how to take care of your lymph at home. No appointments needed!
---
It's not that any one of these steps has magical healing powers. It's the synergy that occurs when each of these steps is implemented in the correct order at the appropriate time. That's when you start to see the light at the end of the tunnel.
Why you should consider working with Flourish Clinic
Care and mastery are what make the difference here at Flourish Clinic.
By the time any of our patients find us, they'll – on average – have seen 5 other healthcare providers. Ranging from family docs and specialists to energy healers and shamans.
Those working in the conventional medical paradigm possess a great deal of mastery. But the care found in these clinics is almost non-existent.
In alternative medicine, you'll often come across healers who truly care about your well-being – sometimes to a fault. But all too often this high level of care is married to a low level of mastery or understanding of your illness.
In order to overcome your illness, you need an abundance of care. And a practitioner with an expert level of understanding – or mastery – over your particular illness.
Care and Mastery are the foundation of the Flourish Framework. It's these values that consistently gets us outstanding patient outcomes.
We've spent thousands of hours studying lymphatics.
We help you get your life back
Let us be your guide.
In working together, you'll develop:
Understanding

Finally, you'll realize what has been keeping you sick and tired for so long. You no longer have to keep guessing or moving from one practitioner to the next.

Reduced anxiety

You now have a clear path back to wellness.

Inspiration

You finally have the energy to be the person you wanted to be. The one who you were before you got sick.
Remember that person you used to be?
That one who had such zest for life. The person filled with huge goals and dreams. It's still there inside you. All you need to do is remove the illness in order to let your light shine through once again.
Let us be your guide back to health.