Don't expect miracle treatments from natural health practitioners. Their methodologies may be equally as ineffective as the antidepressants prescribed by your doctor. 
If you haven't already, be sure to check out part 1 of this post.
After struggling through the conventional medical system, most chronic fatigue patients end up at a natural health practitioner's office. But before you go thinking that natural medicine holds the answers to CFS, know that these practitioners experience a lot of the same deficiencies as medical doctors.
Is your practitioner competent in treating fatigue?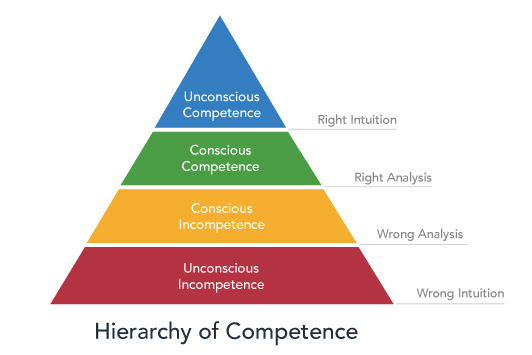 Early in my career, I had a patient who was very sick. She could hardly tolerate any food. Nearly every food she ate caused intense allergic reactions. She had chronic diarrhea, intense fatigue, and severe brain fog. No one could figure out why.
At this point in my career, I was in the unconscious incompetence stage of the above pyramid. I didn't consider what I didn't know. I convinced myself that this patient had an undiagnosed gut issue. But every treatment we did on her gut made her symptoms worse.
There was something I didn't know.
Years later, I started studying mold illness. As I read the symptoms of toxic mold, this patient's case came flooding back into memory.
Her symptoms were so obvious now. It was clearly caused by toxic mold. I had moved from unconscious incompetence to conscious incompetence.
To successfully treat a condition like chronic fatigue, your practitioner needs competence. And a great deal of it. Unfortunately, gaining competence is not so easy.
When you're inexperienced, you're not conscious of all the things you don't know. In the context of CFS, you need to know a lot. There is a myriad of processes that can contribute to fatigue. If your practitioner is not aware of them, he's not going to consider them in his analysis.
Make sure you ask your practitioner about his experience in treating fatigue. Ask about what sort of things he's found to commonly cause fatigue. The more categories he can list, the better.
The 3 types of natural health practitioners
There are three types of natural health practitioners:
Weekend warriors
Disengaged practitioners
Engaged practitioners
Weekend warriors
Weekend warriors take weekend workshops. Their practice is more of a hobby than a career. Often, weekend warriors don't have formal training in health and wellness.
Their knowledge is based on what they've experienced themselves (they're often reasonably healthy) and what they've learned in weekend workshops. The classic example of a weekend warrior is a reiki master. He will have taken a few weekend's worths of study in reiki. But not much more than that.
Unfortunately, you're not going to come across a solution for chronic fatigue in a weekend. Many practitioners have dedicated their lives to studying this illness – and they're still confused.
Weekend warriors don't realize how much they don't know. They're in the unconscious incompetence stage. These practitioners may be able to help with stress reduction. But they're not going to find the root cause of your fatigue.
Disengaged practitioners 
Much like medical doctors, alternative medicine practitioners get burnt out. Between family commitments, the entrepreneurial aspect of building a practice, and staying on top of the latest research, being an engaged practitioner is exhausting.
Disengagement in the world of natural health is different than conventional medicine. Disengaged conventional docs are actively dismissive. Natural health practitioners are more passive in their disengagement.
In all likelihood, a burnt-out natural health practitioner will still be a warm, caring, and empathetic practitioner. This can make it challenging to know if your practitioner is engaged or disengaged. I've found the best way to determine whether or not your practitioner is engaged is through research.
If you're not improving, is your practitioner willing to learn more? 
Or, do you keep getting the same advice at each appointment?
If the recommendations don't seem to change, you're probably dealing with a disengaged practitioner.
Engaged practitioners
Engaged practitioners are the unicorns of the alternative medicine world. They're hard to find and often have extensive waitlists. Trust me, they're worth the wait.
Engaged practitioners will do a lot of the heavy lifting for you. They're already going to have a lot of experience with complex cases like chronic fatigue. They'll be knowledgeable about many different root causes of fatigue.
If you stump them, engaged practitioners will bury their noses in textbooks and research papers to find out why you're not getting better.
Since it can be challenging to identify if you've got an engaged practitioner, I've got the perfect question for you to ask them. It will quickly identify whether or not your practitioner is engaged!
The most important question to ask your chronic fatigue practitioner
The most important question you can ask your practitioner is:
What is your work schedule?
If your practitioner works from 9-5 Monday through to Friday and has family commitments most evenings and weekends, where do you think he's going to find the time to further his knowledge or research complex cases like yours?
Burnout and compassion fatigue affect natural health practitioners at an alarming rate. Combine this with the fact that your practitioner is also an entrepreneur. He's running a business, managing patient cases, and trying to be an active member of his family/community.
That's a massive amount of responsibility. And this doesn't even begin to factor in time for his personal interests. Much like family doctors, your natural health practitioner could be on the verge of a burnout.
If your practitioner has no time set aside for research, it's unlikely he's going to go the extra mile for you.
The law of the instrument – or, the one thing you need to watch out for
When you're a hammer, everything's a nail.
This quote illustrates the law of the instrument. And it's a super important law in the context of natural health practitioners. Each practitioner is going to have an inherent bias based on the training he received.
Chiropractors will view your illness through the lens of spinal subluxations. All that pain of yours is coming from a misaligned spine!
Acupuncturists will view your illness through an imbalance in your Qi (energy) or meridians. Acupuncturists will describe your problems with strange Traditional Chinese Medicine terms like liver qi stagnation. Your pain has to be caused by liver qi stagnation.
Holistic nutritionists will look at how food impacts your health. Your pain is coming from a hidden gluten sensitivity. Remove gluten and your pain will go away.
If you went to see each of the three practitioners, you'd receive three totally different diagnoses and treatment recommendations. Each practitioner is biased by the training he received. Each practitioner fails to consider the point of view of the other.
So… Which one's right? 
All three of these practitioners are probably right. At least partially. All are viewing your complex case through the lens in which they were trained. Practitioners default to using the tools they're most comfortable with.
Since each of these practitioners is only seeing you through the lens in which they were trained, there are going to be pieces missed. Pieces that these practitioners are blind to. These are likely the pieces that will keep you from fully recovering.
To overcome a complex illness like chronic fatigue, your practitioner needs a special type of training. A type of training that's far more general than it is specific.
The new experts in chronic illness
The next generation of experts will be ultra-generalists.
How many surgeons do you think would recommend nutrition change?
Not many. Because surgeons view surgery as the solution. Surgeons are specialists, not generalists.
If your practitioner's training is too specific, he'll only be looking for causes within the context of his specific training. Instead, look for a practitioner who has training in functional medicine.
Functional medicine is inherently broad and general. Functional medicine practitioners will have training that spans many different domains. This 10,000-foot view helps them piece together complex illnesses like chronic fatigue.
Just be sure that your functional medicine practitioner is engaged! Remember, ask him about his work schedule. If you don't see much time set aside for research, keep looking for a new practitioner.
Once you find an engaged practitioner, don't worry about how long his waitlist is. You'll save a ton of time and money by working with a practitioner who understands the root cause of your illness. It's well worth the wait.
Ok, now you know exactly what to look for in a natural health practitioner. It's time for me to hear from you!
What do you think makes a great natural health practitioner? 
Leave your answers in the comments section below.