Does it feel like you're experiencing a relapse of chronic fatigue? 
Your exacerbation of fatigue-related symptoms could actually be the result of your brain playing tricks on you!
I've written in the past about the wide-ranging effects your brain can have on energy levels here and here. Your relapse of chronic fatigue might be a misinterpretation by your brain. This is most evident in a phenomenon known as the peak-end rule.
The peak-end rule helps to gain a little better understanding of the way your brain works. Your brain doesn't calculate an average for a given experience. Instead, according to the peak-end rule, the way in which you judge an experience is largely based on how you feel at the experience's peak (the most intense point) and/or at its end. (1)
Consider the following two experiments that better illustrate the peak-end rule in action:
In patients undergoing a colonoscopy (what used to be an incredibly uncomfortable procedure), researchers consistently found that patients rated the experience based on either the worst part (most painful part) of the examination or at the end of the examination. If researchers prolonged the experiment by three minutes but caused little-to-no discomfort for those three minutes, patients rated the procedure as far better than the patients that experienced a shorter exam. (2)

Another study had a group of participants first place their hands in cold water for one minute. Then, the same participants had to place their hand in cold water for another one-minute interval. But at the end researchers raised the water temperture by one degree celcius (a neglegible amount) and instructed participants to keep their hand submerged for another thirty seconds. (3)

When researchers asked participants which trial they'd rather repeat, the overwhelming majority selected the second version. Even though the second trial had their hand submerged for an additional thirty seconds in cold water. The participant's brain remembered that one degree celcius increase as a positive experience. This colored their entire experience. And this is the peak-end rule in action.
A similar phenomenon happens with fatigue. When asked to rate your energy levels, your brain will remember a time when they were at their best. Or, a time when they were at their worst. And that one experience will color how you interpret your "average" energy levels.
In reality, your energy levels fluctuate throughout every hour of every day. There will be days/times when you have more energy. And other days/times when fatigue can feel unbearable.
This is what makes fatigue questionnaires so inaccurate. The intensity at which you rate your fatigue levels is entirely dependent on how you're feeling when you take the questionnaire.
How will you know that you're making progress in treating your fatigue? Are you having a relapse of chronic fatigue or is it just a bad day?
Your energy could be improving but your brain keeps remembering the time when you were at your worst. Your brain could (secretly) be sabotaging your success. A change in your nutrition, supplements, exercise, etc could be helping to improve your energy. But your brain is stuck remembering the time(s) when you were so fatigued you couldn't walk up the stairs!
What does recovering from fatigue look like?
You'd likely define fatigue recovery as a returning towards a normal, healthy, pre-fatigued state. (4) But fatigue improvement is more the act or process of making your energy better than before. Recovery implies complete resolution. Whereas improvement suggests forward progression but not necessarily a return to your pre-fatigued state.
Recovery and improvement are (unfortunately) used interchangeably in research done on fatigue. Whether a chronic fatigue treatment works (or not) is often based on whether you feel better.  Compound this with unclear diagnostic criteria, and it becomes incredibly challenging to track recovery and/or improvement.
A better way to assess chronic fatigue
Before we start evaluating your fatigue recovery, let's agree upon diagnostic criteria. Chronic fatigue syndrome (CFS) has gone through many iterations. From Akeyurki disease to Myalgic Encephalomyelitis to (most recently) Systemic Exertional Intolerance Disease (SEID). Each of these iterations brought with it new/altered diagnostic criteria.
Systemic Exertional Intolerance Disease (SEID) has the most robust diagnostic criteria. But most people were diagnosed with either Chronic Fatigue Syndrome (CFS) or Myalgic Encephalomyelitis (ME) well before the criteria for SEID were established. There needs to be a clear, universal diagnostic rubric in order for healthcare providers to successfully gauge patient recovery.
Personally, I prefer more robust diagnostic criteria. If the diagnostic criteria are not thorough, the odds of you being misdiagnosed are high. The more robust the diagnostic criteria, the more clear chronic fatigue syndrome becomes. Part of the reason we're so unclear on CFS is because of all the different diagnostic methods used over the years.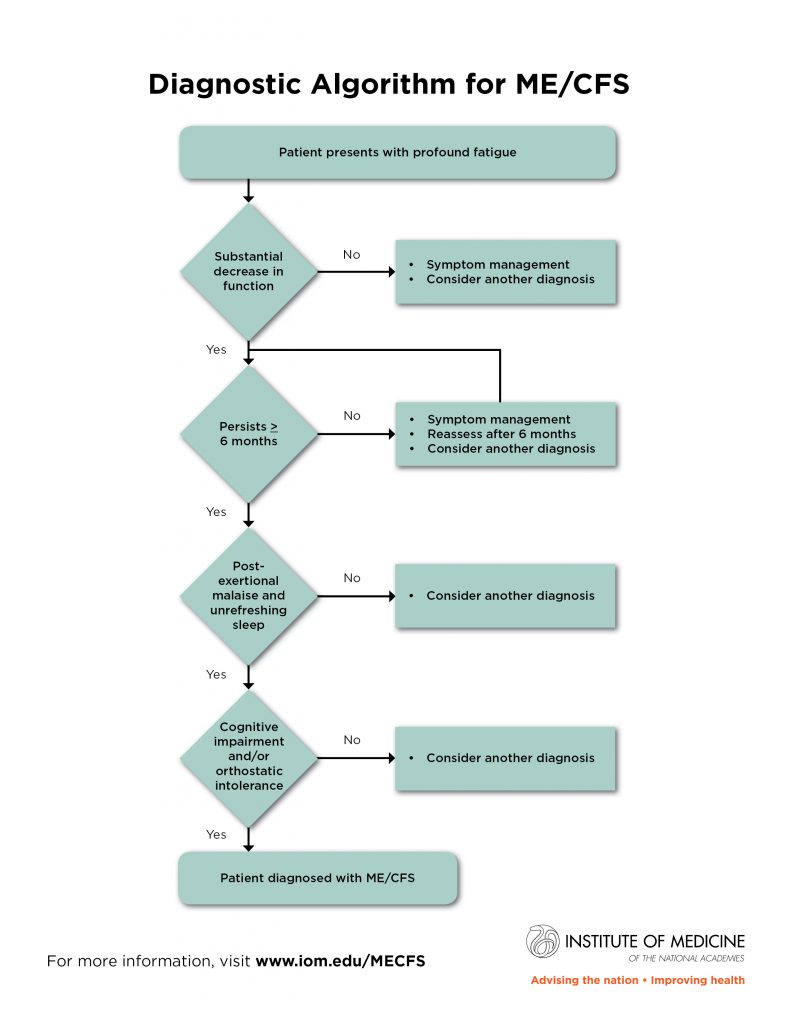 The current chronic fatigue diagnostic rubric
Above, you'll see the latest diagnostic rubric for chronic fatigue/myalgic encephalomyelitis/systemic exertion intolerance disease.
Let me be clear, this is solely to determine whether or not you have the disease. It does nothing more than that.
This rubric does not address the severity of your fatigue. It does not identify how fatigue is impacting your life. It does not look to evaluate the time(s) when you are the most fatigued and when you have the most energy.
This diagnostic rubric only tells you whether or not you have chronic fatigue. Using this criterion offers no constructive way for you or your healthcare provider to determine if you're getting better. It only evaluates complete resolution.
I feel there needs to be additional measurements that better describe the quality of your fatigue and its effect on your life. This way you can track to see if what you're doing is helping.
You don't go from chronic fatigue to complete energy resolution overnight. Instead, you slowly start building back your energy reserves. Your mitochondrial function starts to improve. You experience a little more energy. And so it goes – step-by-step.
Recovering from fatigue is a gradual process. Therefore, in treatment, there need to be methods of evaluation that signal whether or not your energy is improving. Is your keto diet improving your energy? Or, is it making things worse? Because of the peak-end rule, you cannot rely on your brain to accurately tell you this information. It needs to be objectively tracked.
How should chronic fatigue be evaluated?
After chronic fatigue is diagnosed, it then needs to be evaluated. When I say evaluated, there are specific metrics that should be measured/tracked. I personally like the following questionnaires:
Standford Sleepiness Questionaire
This simple survey uses a 1-7 scale to rate your fatigue levels throughout the day. It's typically done on 5 separate days.
This allows you to see patterns of when your energy is at it's highest and lowest during the day.
Knowing this information can empower you with information on how to best treat your fatigue.
Multidimensional Assesment of Fatigue
This 1-10 scale questionnaire allows you to determine exactly where fatigue is most interfering with your life.
It creates a perfect baseline measurement. You can take this test every few months to see if you're improving.
This 0-4 scale helps you to determine the frequency with which you've felt tired in the past week.
It also helps you identify what aspect of your life fatigue creates the most harm – physical, cognitive, or psychosocial.
Checklist For Individual Strength (CIS scale)
The Checklist Individual Strength (CIS) measures four dimensions of fatigue: Fatigue severity, concentration problems, reduced motivation and activity.
On the fatigue severity subscale, a cut-off score of 35 is used to diagnose chronic fatigue.
Cognitive Failures Questionaire (CFQ)
This 0-4 scaled qestionaire evaluates your basic cogntive abilities.
The 100 point scale
Perhaps the worst test offered, this test simply asks you what percentage improvement you feel you've experienced (between 0%- 100%).
As I mentioned earlier, because of the peak-end rule this type of questioning is rarely beneficial.
I know, I know, at the beginning of this post I criticized questionnaires for the inherent bias of how you feel at the time of filling it out. But since there's no clear lab test you can run to track your improvement, questionnaires are the best we've got (for now!). By filling out questionnaires that analyze your energy from differing perspectives, you are giving yourself the most well-rounded evaluation of your fatigue as is possible.
Please never default to the 100 point scale. Print off a copy of the above questionnaires and fill them out on a monthly basis. I recommend you fill out the questionnaires on the same day and at the same time each month. This will limit the amount inconsistency in your reporting.
These questionnaires can be especially helpful after you start a new nutrition plan or, add a new supplement. Re-evaluating your fatigue levels after making a lifestyle change can help you evaluate whether (or not) a given particular supplement or diet is actually helping your fatigue.
By reporting on a regular basis, you become more objective. You don't let your brain trick you into thinking you're experiencing a relapse. Instead, you have data to continually look back on that charts your improvements in energy. That alone can help orient your brain towards a more optimistic mindset. And an optimistic brain is absolutely essential in overcoming chronic fatigue!
The next time you think your fatigue is relapsing, look at your data. Your brain cannot be trusted to evaluate your energy/fatigue levels in a helpful way. You need to continually chart your progresss.
Now, I want to hear from you!
What have you used to evaluate your fatigue levels? How do you monitor your improvement(s)?