Not only does it cause fatigue, but trans fats are also a known cause of heart disease and early death.
Suffice it to say, if you want to overcome fatigue, you need to keep the trans fats out of your diet.
But simply keeping trans fats out of your diet won't be enough to overcome complex conditions like chronic fatigue syndrome. If you really want to overcome fatigue, you need a serious upgrade to your knowledge of fats.
If you haven't already, start with this post – healthy fats for the keto diet. Once you've mastered the basics found in that post, it's time to continue on with this post.
Fats for the fatigued
I've said it before and I'll say it again if you're dealing with fatigue, the best diet to follow is a keto diet. Once you've got a handle on keto, it's time to fine-tune your fat burning nutrition plan into a fatigue-fighting warrior. The best place to start is with omega-3 fatty acids.
Do you know what tracks almost identically with the rise in chronic diseases like chronic fatigue?
An increase in omega-6 fatty acids

Specifically from industrial seed oils like corn, safflower, and soy.

A decrease in omega-3 fatty acids

Fewer healthy plant-based sources like chia combined with fewer animal-based sources like fish.
Humans need both omega-3 and omega-6 fatty acids. Both omega-3 and 6 fatty acids are what are known as essential. Essential means that your body cannot create these acids on its own. They need to come from the food you eat.
The problem modern humans are facing is that the ratio of omega-6 to omega-3 fatty acids is completely out of whack. The average person eats 30x the amount of omega-6 fat than omega-3 fat. (1, 2) Your ancestors likely ate only 3x the amount of omega-6 to omega-3 fatty acids.
Having such an imbalanced ratio of omega fatty acids is not good for fatigue. As you know, in addition to fatigue, CFS is thought to also be in part an inflammatory condition. When your omega-6 levels are 10x that of your omega-3 levels, inflammation becomes a real issue.
Food for thought: your ancestors consumed approximately 14 grams of omega 3 fat each day. (3, 4) You likely consume 1.4 grams of omega 3 fatty acids each day (5) – 10x less than your ancestors! 
Ok, take-home message time:
If you're fatigued, you need to increase your consumption of omega-3 fatty acids and drastically decrease your consumption of omega-6 fatty acids. 
This is not as easy as it looks. Even if you ate salmon every day, your ratio of omega-3 to omega-6 would still be skewed in the inflammatory direction.
To decrease inflammation and overcome fatigue, you need to radically decrease your omega-6 intake. This is more important than increasing omega-3 intake. If you focus on decreasing omega-6 fats in your diet, your fatigue will improve.
Where are all these omega-6 fats coming from?!
Industrial seed oils are where a lot of these omega-6 fats are coming from. Soy, corn, safflower, sunflower, etc. Nearly all processed foods will be created using industrial seed oils. But even if you cut out processed foods, you could still be getting too much omega-6 from the meat you eat.
Consider how your ancestors obtained protein…They had to hunt and kill wild animals. Animals that had a diet as nature ordained. Bison and wild cows, for example, foraged on grass, shrubs and small trees.
Today's hunting occurs in factory farm operations. Nearly all the meat you purchase at your local grocery store comes from concentrated animal feeding operations (CAFOs). Even fish are starting to be farmed in ocean-based CAFOs.
The inherent problem with CAFOs is the food these animals are fed. To expedite the time required to get an animal ready for slaughter, CAFOs feed animals high-calorie grains. These grains increase the fat content of animals. Which makes for better marbling on your ribeye.
Like you, these animals didn't evolve to eat grains. Feeding them grains is a modern construct. A very recent modern construct. There simply hasn't been enough time – in an evolutionary sense – for these animals to adapt to this new food source. The resulting consequence is a change to their fat content.
Beef, for example, is naturally quite high in omega-3 fatty acids. That is until you start feeding cows grain. The grains alter the fat profile of the meat, skewing the balance towards a higher omega-6 content.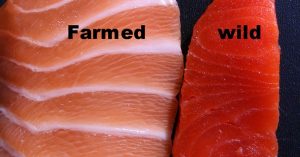 A similar process occurs with farmed salmon. Salmon farmers need to feed their fish a chemical known as astaxanthin. Astaxanthin dyes the salmon meat to the pink color you see in the picture.
Without astaxanthin, farmed salmon meat would be a pale white color. Gross! Even with astaxanthin, notice how pale the pink color of salmon is compared to a wild-caught Coho salmon in the picture.
Farmed salmon is high in omega-6 fatty acids. If you want to overcome fatigue, avoid farmed salmon. Wild salmon is high in omega-3 fatty acids. Ensure your salmon is wild-caught.
Obtaining healthy fat when you're fatigued
If you're fatigued, make sure your fats and protein are coming from a local farm. Not the grocery store.
If it's beef you're after, make sure the cows are grass-fed and grass-finished. Pork should be heritage-raised and avoid the use of grains as much as possible. Fish need to be wild.
A note of caution surrounding organic labels placed on fish. The organic certification for fish is unique to farmed fish. You're going to want to avoid any type of farmed fish – organic or not. Where fish is concerned, always opt for wild.
By following these simple practices, you'll start making a massive decrease in your omega-6 levels. This should help lower inflammatory of fatigue levels in those of you dealing with chronic, inflammatory illnesses like CFS.
What about healthy fats from plant sources?
After poo-pooing meat consumption through factory farm operations, the next question I inevitably encounter has to do with plant sources. Namely, if meat contains all these inflammatory fats, why not just opt for a plant-based diet?
Have you heard of EPA (eicosapentaenoic acid) and DHA (docosahexaenoic acid)?
EPA and DHA are the main types of omega-3 fatty acids. They're also the stuff your body's after when it comes to omega-3s. Check out your fish oil supplement; on the label, you'll see how much EPA and DHA is contained in that product.
It's these two fatty acids, EPA and DHA, that your body needs. Seafood contains a great deal of EPA and DHA. Plants contain a different type of omega-3 fatty acid. In plants, the omega-3 fatty acid found is called ALA (alpha-linolenic acid). Plants don't contain EPA and DHA.
Fortunately, your body comes equipped with some pretty advanced machinery. Machinery that's able to convert ALA into EPA and DHA. Unfortunately, this conversion process doesn't work very well. Certainly not as well as your vegan friend thinks it does.
Depending on which study you read, ALA can be converted into EPA and DHA at a rate of 0.1% up to 1%. (6) Not a very efficient system if you ask me.
Those of you dealing with chronic fatigue, are going to struggle with this conversion process. For you, it is essential that your omega-3 fatty acids come from seafood, not plants.
I'm not advocating those with CFS to avoid eating fruits and veggies. All I'm indicating is that to overcome fatigue, we need to lower the levels of inflammation. To do this, the right kinds of fats need to be consumed. So far as omega-3's are concerned, the right type of fat comes from animals.
Take these steps to make sure your fat intake isn't causing fatigue
Here are your action steps to ensure your fat intake isn't causing fatigue. Follow these steps and you'll be on track to overcoming fatigue for good!
Avoid trans fat

As these have been banned in most countries, it should be easy for you to avoid consuming these types of fats.

Dramatically decrease your omega-6 intake

Avoid all the industrial seed oils – canola, soy, safflower, etc.
Stop purchasing factory-farmed meat and seafood.
Opt for wild-caught seafood and grass-fed/finished meat.

Increase your omega-3 intake

Wild-caught fish, seafood and organ meats are the best sources of omega-3 fatty acids!
Fish oil supplements can help but whole food sources are best.

Don't get all your omega-3's from plants

Your body struggles to get omega-3 fatty acids from plants.
Obtain omega-3's from animal products.

Adopt a high-fat low-carb diet
If you follow these five steps, you will ensure that fat doesn't contribute to your fatigue. In fact, proper fat intake will actually improve your energy!
Go get some healthy fats!
I'd love to hear your experience on how fat intake changed your energy levels!
Leave your answers in the comments section below!