If you've ever been to an acupuncturist, you may have been told your qi (energy) is imbalanced. 
As you'll soon find out, acupuncture really doesn't have much to do with an energetic system inside your body.
It's time to update how we think acupuncture works.
I'm an acupuncturist. Every day in the clinic, I insert small, sterile needles into people's tissue. Even with this bias, I'm skeptical of many claims made by acupuncturists. In fact, I question the fundamental theory that acupuncture is built upon.
Acupuncture is in need of a revolution. In today's article, we discuss if acupuncture is real. I'll help you better understand this ancient practice by bringing acupuncture into a modern understanding that is aligned with the scientific model.
Let's get going!
The mistranslation of an ancient language
Do you remember stumbling through Shakespeare in high school?
I recall this to be the bane of my high school career. I could never make sense of his work. I always misinterpreted passages. I was heavily reliant on Cole's Notes to decipher the cryptic meanings of Shakespearean prose.
The English used in Shakespeare's writing isn't that old. Most of his plays were published in the 1600s; about 400 years ago. For anyone who has read Shakespeare, you quickly get a glimpse into how the English language has evolved in the past 400 years. There is a stark difference between modern-day English and the English used in the time of Shakespeare.
Since there's such a difference between modern and Shakespearean English, it's no wonder many readers feel confused or, mistranslate certain parts of the text. A similar thing has happened to acupuncture…
The original acupuncture text is known as the Huangdi Neijing. This textbook was written more than 2000 years ago.
If you struggle to read an English play written only 400 years ago, how do you think you'd fare at interpreting an English play that was more than 2000 years old?
Not very well, that's how. And here lies the biggest problem with acupuncture – much of acupuncture theory, including the whole concept of energy and meridians, is based on a mistranslation of an ancient text.
Is qi real?
When I was in acupuncture school, the fundamental theory I was taught was that of qi. Qi was defined as life force or vital energy. According to my lessons, qi was what keeps us alive and healthy. Acupuncture was a means to manipulate one's qi.
This contradicts the western or bio-medical understanding of how our bodies work. Scientists have never been able to find or measure this qi or life force. Yet acupuncturists claim it exists.
Who's right?
As far as I can tell, there is no such thing as qi. At least in the context of energy or a substance that flows throughout our bodies and keeps us alive. This way of thinking is known as vitalism.
Vitalism is an ancient way of thinking about the body. Vitalism proposes that living things are fundamentally different than non-living things because they contain a non-physical element. That non-physical element could be described as qi, prana, spirit, or vital spark. The fundamental idea in vitalism is that a non-physical element is what keeps us alive.
Given the times in which vitalism was a prominent theory (19th and early 20th century), this type of thinking made a great deal of sense. Scientists had no idea how the human body kept itself alive. Proposing there was some non-physical element guiding the process was a reasonable hypothesis for the time. (1)
Understanding and thinking progressed. DNA was discovered. We learned that DNA was what guided the change or creation of cells and tissues; not an invisible force.
As far as the scientific community is concerned, vitalism has been thoroughly debunked. It doesn't exist.
In the context of acupuncture, the whole notion of qi really doesn't have anything to do with energy… That concept was a gross error that has been perpetuated over and over by the acupuncture community.
Today, I set the record straight. Let's find out what qi actually is…
The massive whoops that acupuncture theory is founded upon
Acupuncture's introduction to a Western audience can be linked to a fellow known as George Soulie de Morant of France. This fine fellow worked as a banker in France. The bank de Morant worked for sent him to China as he was fluent in the language from a young age.
During an outbreak of Cholera in Beijing, de Morant observed the benefits acupuncture had on treating this illness. To satiate his fascination, de Morant sought out teachers of acupuncture to explain to him how this ancient healing tradition worked. After many years in China, de Morant returned home to France where he was persuaded to translate acupuncture texts. (2)
Allow me to interject here:
An individual with zero medical training that learned Chinese as a second language was put in charge of translating an ancient – hard to understand by native speakers – Chinese texts into French.

This is what we base acupuncture theory upon…
As you can expect, de Morant made some gross translational errors. Two of which underlie a great deal of what acupuncture is based on:
Qi

Mistranslated to mean energy.

Mai

Mistranslated to mean meridians.
de Morant mistranslated the word qi to mean energy and the word mai to mean meridian. Putting these two mistranslations together, de Morant incorrectly concluded that energy (Qi) flows through meridians (mai). And just like that acupuncture theory was created… Even though it's a gross mistranslation.
In the books, The Dao of Chinese Medicine, and Huang Di Nei Jing Su Wen, Donald Kendall and Paul Unschuld work to de-mystify the esoteric or energy medicine aspects acupuncture. They bring to light the mistranslations done by de Morant.
What qi was supposed to be translated to was oxygen. What mai was supposed to be translated to was vessel – as in blood vessel.
Now, that makes a great deal of sense from a western medical understanding, doesn't it?
Oxygen (a form of energy so far as ancient people could understand it) is carried throughout your body by way of blood vessels.
As if that wasn't enough of an error, acupuncture theory has even more drama associated with it. We explore this next!
Even more negligence in creating the acupuncture theory
You'd think that the above would be enough of an error to warrant a refocus. Yet, acupuncture and Traditional Chinese Medicine (TCM) went through yet another period of rebranding.
If you go back far enough into the history of Chinese Medicine, you'll learn that many founding theories and beliefs were rooted in cosmology. A book known as the I Ching (also known as Yi Ching) was the guiding force behind early acupuncture theory. It is through this work that concepts like yin and yang were first addressed.
Fun fact – this is also where the Chinese horoscopes/zodiac come from.
In the 1950's Chairman, Mao Zedong founded the People's Republic of China. This was China's first foray into a communist regime.  it was at this time that Chairman Mao suggested a revolution of TCM theory.
The proposal was to remove the spiritual aspects of acupuncture and Traditional Chinese Medicine. Chinese Medicine was recreated in response to Western Medicine. Chairman Mao wanted TCM to be more believable and better accepted by Western audiences.
The acupuncture theory that I – and every other acupuncturist – is taught in school is TCM. Meaning that it's not thousands of years old but instead about 70 years old.
Now, I'm not at all certain on exactly what was added and what was removed from acupuncture theory during the 1950s. But Alan Levinovitz does a great job covering a lot of the changes.
Now that you know the questionable past of acupuncture, should you avoid it like the plague?
Not at all. There are plenty of conditions that respond incredibly well to acupuncture. But the reason for the improvement has little to do with energy or meridians and a lot more do with principles aligned with modern scientific theories. Acupuncture isn't mystical. It works on natural laws that any of us can learn and understand.
Let's find out exactly how acupuncture works!
A modern understanding of acupuncture
If your acupuncturist claims to be fixing your qi, I'd encourage you to find a new practitioner. I'm of the mind that the energetic model of acupuncture has been thoroughly debunked. But that doesn't mean acupuncture works only via the placebo effect. Modern science is beginning to show us the positive effects acupuncture can have on the human body. Not only that, but we're also starting to be able to explain exactly why acupuncture works!
You've probably never heard of purinergic signalling. If you did, the explanation would likely put you to sleep. I'll do my best here to keep the explanation simplified. But it's imperative you have a basic understanding of this concept as it explains how acupuncture works through a biomedical model.
Your cells need a means of communication between them. There has to be a way to get a message across multiple cells in a given area or even across your body. Imagine you sprained your ankle, the cells that make up the muscle and ligaments of your ankle need some way of signalling to other cells that there's damage here, please send help!
This is purinergic signalling. Purinergic signalling uses adenosine and ATP to signal and regulate organs and tissues. (3, 4) Every time you send a signal from your brain to your muscles, organs, etc. ATP is required to send that impulse through the nerve.
When you put an acupuncture need into the skin, skin cells utilize purinergic signalling – the releasing of ATP – to communicate with nearby cells.  Cells like the ones found in the sensory nerves of the skin. This information is thought to then be carried through the nerve and into the brain. The transmission of information occurs cell-to-cell by the communication mechanism known as purinergic signalling.
How remarkable is that?!
The simple act of inserting a needle in your hand can lead to an effect all the way in your brain! This is just one potential pathway of action that helps to explain how acupuncture works. Next, we'll explore even more ways acupuncture benefits your health!
More scientifically verified ways acupuncture can benefit you
Now, you know the beneficial effects acupuncture can have on your cells. By affecting localized cells, the message can be carried to distant cells via cellular communication pathways. But acupuncture also has a profound effect on your nervous system. Specifically, helping your nervous system to calm down and relax!
You've probably heard of the limbic brain before. Many refer to this as the reptilian brain. It's the area of your brain associated with stress. The simple act of inserting needles has been shown to decrease activity in your limbic brain. (5) Acupuncture has also been shown to help bring about a regulating effect on the HPA (hypothalamic pituitary adrenal) axis. This is the same axis your body utilizes for regulating hormones and the stress response! (6)
Fight and flight or rest and digest. These terms are used to describe two different branches of your nervous system – the parasympathetic (rest and digest) system and the sympathetic (fight or flight) system. Acupuncture has been shown to be a means to help you move from a sympathetic nervous system response into a parasympathetic nervous system response. (7) Given how stress (sympathetic nervous system innervation) seems to negatively affect just about every condition, regulating your stress response with acupuncture seems like good practice to me!
Before you go thinking acupuncture is a panacea, know that it has limitations. There are plenty of conditions acupuncture is not effective in treating!
Can acupuncture help with everything?
Acupuncturists can get a little arrogant. I certainly did. I believed acupuncture could fix or help just about every condition on the planet. As I gained experience, I realized this really wasn't the case. Acupuncture doesn't help with everything.
Now, lots of acupuncturists will rely on their anecdotal experience to state whether they can or cannot help with a given condition. This is not an effective means to evaluate the success of treatment. Studies need to be run. Variables need to be controlled. Only then can we say that acupuncture does or doesn't help with a given condition. Below is a list based on the most up to date scientific research on which conditions acupuncture can help with. If your condition is listed below, I'd recommend giving acupuncture a go!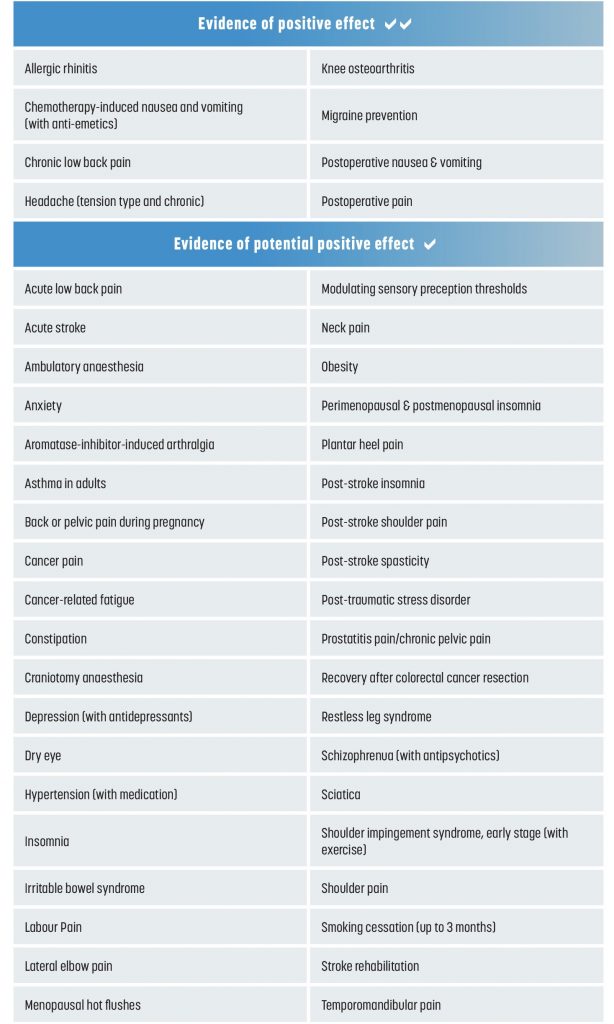 Is acupuncture real? – Final thoughts
Acupuncture is real. The effect acupuncture has on your body is more than just a placebo effect. There is a quantifiable change that occurs when you receive acupuncture. And this happens in a predictable manner that is far greater than the random chance found in a placebo effect.
But acupuncture is not a panacea. It cannot treat everything – even though your acupuncturist may say it does. Refer to the above chart for conditions that have good evidence supporting acupuncture as a therapeutic intervention.
Acupuncture isn't magic either. I know, it may seem that way. But there's a very real explanation for how it works. The explanation is grounded in scientific principles. These principles don't include invisible energy moving through invisible meridians.
Qi served us well. It was an incredible metaphor that ancient people used to explain concepts that at the time were unexplainable. But we've progressed. It is time to let the notion of energy and meridians go. Acupuncture is more about affecting the mitochondria in your cells than improving the energy flow through meridians.
I don't know about you but, but I find manipulating mitochondria and nervous systems with needles even more magical than meridians and energy!
Now, I want to hear from you!
How has this post influenced your thinking of acupuncture? 
Be sure to leave your answers in the comments section below!