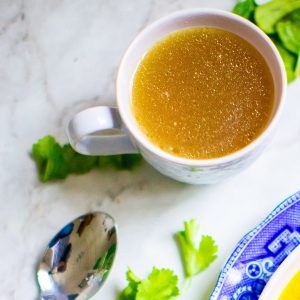 I recommend using an instant pot or pressure cooker to make your bone broth. It's quick, easy, and super tasty. 
If you don't have an instant pot, a slow cooker or stovetop method works just fine. 
Instant Pot Bone Broth Recipe
Use your Instant Pot to make delicious broth in just two hours! This recipe will give you a nearly infinite supply of instant pot bone broth.
 Prep Time 10 minutes
 Cook Time 2 hours
 Total Time 2 hours 10 minutes
 Servings 10 servings
Ingredients
2 pounds chicken feet or other meaty bone scraps (marrow bones work great) 
2 cloves garlic, peeled and minced (optional)
2 tablespoons raw apple cider vinegar
Salt – to taste (I add a LOT) 
Water
Fresh herbs, like rosemary, oregano, or parsley (optional)
Instructions
Add chicken feet or meaty bones, apple cider vinegar, and cold water to the Instant Pot, leaving 3 inches from the top.

Let this sit for at least 30 minutes.

Add in the other ingredients and fill water to the MAX line in the Instant Pot.

Securely close and lock the instant pot. (You'll have a mess on your hands if this isn't done correctly.)

Set the instant pot to cook 120 minutes at high pressure.

Use the manual release valve to release the pressure before unlocking and opening the pot. The steam will come out very hot and could burn you, so be careful.

Strain liquid into mason jars.

Freeze whatever you don't think you'll use within one week.
If you're not using an instant pot, add ingredients to your slow cooker or stockpot. Cook on low heat for 24hrs. 
Recipe Notes
Note: Once the broth cools in the refrigerator, there will be a layer of fat that has risen to the top. You can scrape that off with a spoon before warming and sipping your broth. However, we prefer enjoying all the fatty goodness 🙂