Do you experience:
Difficulties focusing or maintaining your concentration?
Irritability/moodiness for no apparent reason?
Challenges getting out of bed in the morning?
Forgetfulness?
Intense food cravings?
These symptoms are so commonplace that many of you probably consider them to be normal. They are not normal. These are symptoms that your body is not functioning properly. Often it's these seemingly "normal" symptoms that are the early warning signs that your body is fatiguing.
If you are in need of more energy, you're in the right place. We've built this site to empower you with all the information you need to overcome fatigue.
Your first step is downloading our free eBook – Fix Your Fatigue. You'll learn seven super simple tips to increase your energy. None of which require radical dietary changes. These steps are small and easy to implement. So get going on them today!
After you've got your eBook, you're ready to explore our site. I've broken your pathways to beating fatigue into three camps:
The first step in regaining your energy and overcoming fatigue is identifying exactly which foods make you tired. This is not as simple as eating so-called "healthy" foods and avoiding the "unhealthy" foods. That advice will only get you so far.
The foods that make you tired will be different than the foods that make your friend tired.
Start your fatigue recovery with this section and learn exactly how to Eat for Energy!
If your body feels so tired and heavy that even the thought of moving it makes you tired, check out this part of the site.
There are numerous articles to help you understand why your body feels so tired and specific strategies targeted at energizing your body!
When you're tired, your brain is tired. Brain fog, difficulty concentrating, and irritability are commonly the first signs of fatigue. In this section, you'll learn positive psychology strategies to help clear your brain of the fog and empower you to create a life worth living.
Read on to learn what's really going on with chronic fatigue.
Fatigue is not a symptom of a disease
Fatigue is not a symptom of some other disease process. Instead, it's the first symptom you experience when your mitochondria are affected.
The mitochondria are perhaps the most important part of your cells. Mitochondria produce a substance called adenosine triphosphate (ATP). ATP is the gasoline that powers your cells. In fact, ATP is what powers your entire body.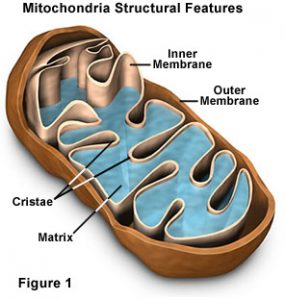 If your cells aren't producing sufficient ATP, you're going to experience fatigue.
Your body's mitochondria produce their ATP by taking sugar (glucose) from your food and transforming it into the energy needed to power your cells and in turn, your body.
This process underlies all of the energy production in your body. If your mitochondrial function is not optimized, you're going to have:
Difficulties focusing and/or maintaining your concentration.
Irritability/moodiness for no apparent reason.
Challenges getting out of bed in the morning.
Forgetfulness.
Intense food cravings.
Yes, these symptoms are indicative of a decline in your mitochondrial function. And your mitochondria is the epicenter of your fatigue!
Mitochondria & fatigue
ATP is so essential to your energy (and your life!) that if you went without it for just a few seconds, you would be dead.
In order to gather energy from ATP, your body "breaks it down" into adenosine diphosphate (ADP). This chemical reaction from ATP to ADP releases energy. It's this energy that powers absolutely everything that you do.
Your body has mitochondria in nearly every cell. If the mitochondria in your heart aren't working properly, you'll likely get heart issues. If the mitochondria in your muscles are deficient, you'll feel constant muscular fatigue (this sounds very similar to Chronic Fatigue Syndrome doesn't it?). If the mitochondria in your guts are affected, there will be gut issues like IBS.
The proper functioning of your body is entirely dependent on the health of your mitochondria. If you want to overcome fatigue, increase your energy, and/or improve your focus, focusing on your mitochondrial health is the way forward.
Now that you know how important mitochondrial health is to increasing your energy, it's time to learn how to make your mitochondria healthy.
Why fatigue is associated with aging
The number one reason for the decline in mitochondrial function is aging. If you're 70 years old, your mitochondria will be about 50% less efficient than a 30-year-old. That's 50% less energy production by the time you reach your senior years. No wonder your energy levels decrease with age.
But there are two different types of age you need to be aware of. Your chronological age is what typically comes to mind. It's the number of years you've been alive. Your biological age is a completely different story. Biological age is how old a person seems.
You could have a chronological age of 70 years but a biological age of 50 years. And it's thought that a lot of this whole aging process is actually caused by the decline of your mitochondrial function. Improve the function of your mitochondria and your biological age will decrease.
The decline of your mitochondria is inevitable. But you can control over how fast that decay occurs. The food you eat, your exercise patterns, and your brain health all impact mitochondrial function.
Healthy mitochondria vs Unhealthy mitochondria
Have you heard of a condition called EOMD?
EOMD stands for early onset mitochondrial dysfunction. You could have EOMD and be completely asymptomatic. The only symptoms you may experience are the ones I listed at the top of this post:
Difficulties focusing and/or maintaining your concentration.
Irritability/moodiness for no apparent reason.
Challenges getting out of bed in the morning.
Forgetfulness.
Intense food cravings.
These are the early warning signs of fatigue. They are the alarm bells that your mitochondria are starting to decline. Remember, it's much easier to fix and address mitochondrial issues before you develop a disease like chronic fatigue syndrome.
What causes mitochondrial decline?
By this point, you're well aware of how your mitochondria affect your energy levels, right?
Your mitochondria could be the reason you experience fatigue. It's very common to have normal lab values yet still suffer from fatigue. Unfortunately, there's not yet a lab test to measure mitochondrial function.
If you're feeling fatigued, tired, or worn out it's time to focus on your mitochondria. Below, I list the most common causes of mitochondrial decline.
Nutrition
Hormones
Toxins
Stress
1. Nutrition
The very first step in fatigue-beating nutrition is to eat real food. If a food comes in a bag or a box, avoid it. If you're eating out at restaurants more than once a week and drinking pop instead of water, stop.
Check out all of our information on how food causes fatigue.
2. Hormones
When it comes to fatigue, there are three hormone categories that are of primary importance:
Thyroid hormones (T3, T4)
Adrenal hormones (cortisol, DHEA)
Blood sugar hormones (insulin, cortisol)
Thyroid hormones are needed for your mitochondria to produce ATP. If you have low levels of thyroid hormones, you're going to feel fatigued. If you have high levels of thyroid hormones you're going to feel nervous, anxious, and/or restless. For proper mitochondrial function, you need your thyroid hormones to be in perfect balance.
Adrenal hormones like cortisol have a profound influence on your energy. If your cortisol does not rise first thing in the morning (this is called the cortisol awakening response) you're going to have troubles getting out of bed and feel exhausted by the mid-afternoon.
When you eat your blood sugar rises. To ensure your blood sugar stays within a healthy range, your body excretes insulin. Insulin helps to lower your blood sugar. Cortisol helps to raise your blood sugar. The insulin-cortisol balance can become affected when you consume carbohydrates your body doesn't tolerate. If your cortisol and insulin levels become imbalanced, you'll experience fatigue.
3. Toxins
Your mitochondria are extremely sensitive to environmental toxins. In order to optimize your mitochondrial function, you'll need to ensure you limit your exposure. Some of the more damaging toxins include:
Heavy metals (eg., mercury, lead)

Amalgam fillings could be a hidden cause of your fatigue.

Xenoestrogens

Xenoestrogens are chemical compounds that closely resemble the estrogen hormone. You will be exposed to thousands of these chemicals within your life.
They are commonly found in plastics.
While more information is needed on the exact effect of xenoestrogens, it is likely that they will impact your body's energy production.

Mycotoxins

Mycotoxins are produced by fungi.
Mycotoxins are commonly found on the food you eat and within buildings that have been water-damaged. Often, household mold remains undiscovered.
Some of you are what is known as mold hyper-responders. You are the canaries in the coal mine. In you, molds will cause a series of dramatic symptoms. Unexplained fatigue is likely to be the most prominent of symptoms.
4. Stress
When I say stress, you'll likely think of finances, relationships, work, or family. These are what is known as perceived stress. And it is ubiquitous in our culture.
But what if I told you that the more insidious forms of stress were actually hidden? 
It's these hidden stresses that contribute to your fatigue even more than perceived stress. To best decrease the hidden stresses on your body (and simultaneously increase your energy) download our free eBook – Fix Your Fatigue. You'll learn seven small steps you can take to start improving your energy tomorrow!
Your next step in overcoming fatigue
I recommend you start your fatigue-fighting journey by implementing the seven small steps for increased energy contained within our eBook – Fix Your Fatigue.
After implementing those seven simple steps, you'll be on your way to creating a solid anti-fatigue foundation. Your next step will be for you to select the pathway to really help you fine tune your fatigue recovery:
Eat for energy

If you're wanting to know exactly what to eat and what to avoid eating – all in the context of increasing your energy. Start with this pillar.

Fatigue-free body

If you want to learn how to alleviate muscle fatigue and the heaviness experienced by a fatigued body, start with this pillar.

Clear, focused mind

If you want to improve your concentration, ability to focus, and mental well-being, start with this pillar.
Enjoy!
Warmly,
The Team At Fatigue To Flourish