Have you seen doctors, naturopaths, massage therapists, chiropractors, acupuncturists (the list goes on) all in hopes of alleviating your illness, but still, your symptoms linger?
It likely feels like you've tried everything.
It's overwhelming. And frustrating.
You likely wrestle with feelings of confusion, vulnerability, and exhaustion on a daily basis.
My name Mark Volmer and my specialty is chronic, hard-to-treat conditions. If you feel like you've exhausted your healthcare options and are at a loss of what to do now, you're in the right place.
You can learn more about me here.
I treat challenging cases at my clinic in Cochrane, Alberta using acupuncture, massage, laser therapy, and functional medicine.
To Learn more about Cochrane Laser Therapy, scroll down.
What is laser therapy?
Low-level laser therapy (LLLT) is a form of laser medicine used in medical and veterinary treatment that uses low-level (low-power) lasers or light-emitting diodes to alter cellular function. Other names for the therapy include low-power laser, soft laser, cold laser, biostimulation laser, therapeutic laser, and laser acupuncture. Where high-power lasers destroy tissue, low-power lasers may stimulate it, encouraging the cells to function.
How does laser therapy Work?
In the simplest of terms, LLLT causes your cells to multiply. More healthy cells = more healthy tissue and less pain/swelling/inflammation.
Who should get laser therapy?
Those with painful conditions lasting longer than 2 weeks are ideal candidates for LLLT. More specifically, laser therapy is ideal for the following conditions:
Tendinitis
Osteoarthritis
Disc bulges or herniation
Sciatic Pain
Wounds that will not heal
What does laser therapy feel like?
A slight warming of the skins surface is the only sensation that can be felt. It is 100% pain free.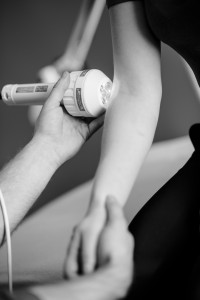 How many sessions will it take for me to be out of pain?
This is tackled on a case by case basis. A general rule of thumb is that you can expect to notice an improvement within 4 treatments.
How long are the sessions?
This varies depending on your condition.
Anywhere from 15 – 45 minutes is typical.
Are there any side-effects?
A temporary increase in your symptoms (similar to what you feel after a deep tissue massage) can occur. Though is is not common. Within 24-hrs, symptoms will subside and you will likely feel better than before your laser treatment.