More than 90% of New Year's resolutions fail.

(1)
Yet people who set goals report they are happier with their lives. (2) If goal setting is a good thing, then why do so many of us fail? And what can boost our chances of reaching our goals?
Two stumbling blocks get in the way of successful goal setting:
A lack of inspiration. Your goal needs to be so inspiring that it makes you jump out of bed every morning.

Too much or not enough direction. 

Shooting for a goal without direction is like hiking without a map – you're likely to get lost.
To make sure you succeed in reaching your goal it must consist of three things:
A Hierarchy – To help you set your main goal and figure out what smaller goals you need to achieve to reach it.

Specific, Measurable, Achievable, Realistic, Timeframe, or SMART characteristics. These keep you focused and force you to organize vague goals into specific outcomes.

BHAG – big, hairy, audacious goal (

3

). This goal will push your comfort zone, challenging you to work towards something that currently seems out of reach.
Goal Hierarchy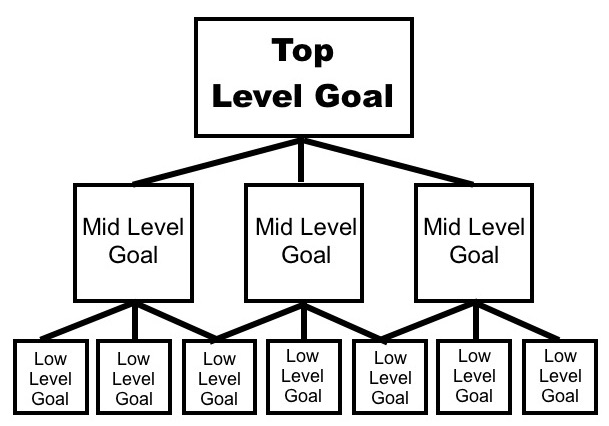 A goal hierarchy is used to organize all of the goals in your head. Think of it as a goal filing system.
This image gives you a very simple example of what I mean (4).
In the picture, there are three levels of goals. Between your low-level and top-level goals there may be several layers of mid-level goals.
The bottom of this goal hierarchy is your To-Do list. These are more like tasks and less like goals. However in order to achieve the mid- and top-level goals, these tasks need to be regularly completed. Even though they seem unimportant you will not succeed if they don't get done.
Mid-level goals are what most of us default to when goal setting. For example, say you have set a goal to run a marathon by the end of the year. This is a great mid-level goal. To grow and develop as an individual, your goals need to push you outside your comfort zone. And if you've never run a marathon, this goal will definitely do that.
If your mid-level goal is to run a marathon, some of your low-level goals may be:
Join a running club

Buy supportive shoes

Train regularly

Purchase nutritious food

Select a marathon and register.
As mundane as they may seem, if these goals aren't completed you won't be running a marathon this year.
Now ask yourself, Why do you want to run a marathon? There could be a number of reasons and behind each is another question:
To show yourself that you can:

Why do you want to prove this to yourself?

To train your body to be the best it can be:

Why do you want to be your physical best?

To check it off your bucket list:

Why is this on your bucket list?
The reason behind this question is your top-level goal.
A top-level goal isn't actually a goal – calling it purpose, belief, or passion would more accurate. The way you can tell it's a top-level goal is when you ask yourself "Why" and the answer is "Just because". The answer "Just because" indicates that the only reason for this goal is your purpose, belief or passion.
Let's break it down even more:
Reason One: To show yourself that you can.
This reflects your purpose – you want to prove something to yourself.
Reason Two: To train your body to be the best it can be.
This reason reveals your passion – you have a drive to push yourself.
Reason Three: To check it off your bucket list.
You believe that you need to make the most of your life and this goal is one way to do it.
Top level goals are the driving force behind all the decisions made. Top level goals drive the "why" behind all other goals.
In her book, Grit, Angela Duckworth recommends asking "why" questions for each of your goals. This can help you uncover your top-level goal.
Why do you care about that?

Why is that important?
Organizing your goals in a hierarchy will quickly show you if all of your goals are working towards the same purpose. You may have conflicting goals. In this case, compare both of your goals to your top-level goal – your purpose, passion or belief.
If your mid-level goal isn't aligned with your top-level goal then it needs to go.
Every decision you make should be analyzed to ensure it is in alignment with your top-level goal. This is how to create meaning and purpose in your life.
SMART goals
The formula for SMART goals was developed in the 1970s. After more than 40 years of research researchers concluded that making SMART goals are the best way to help people put their ideas and aspirations into action. (6)
SMART goals provide direction. Setting a goal of "to do my best" is vague and makes achieving the goal difficult. This is where SMART goals excel – they force you to translate a vague goal like "to do my best" into a tangible plan.
Your own SMART goal should have all five of these characteristics:
Specific

Your goal should be as black and white as possible. Leave no grey area. The goal should be so specific that anyone can see the end point.


I want to run a marathon

Measurable

A SMART goal needs something to track its progress. Data is essential. If your goal can't be measured, you need to change it to include some form of a quantifiable figure.


To run a marathon I need to increase my running distance by 1km per week.

Achievable

Is it possible to achieve this goal? If not, re-work the goal to ensure that you have the resources needed to achieve the goal.


I have the support I need mentally and physically to run a marathon.

Realistic

Similar to achievable. Given where you are right now, is it realistic to achieve your goal in the time you've set to do it?


I will run a marathon in 8 months.

Timeframe

The goal needs an expiration date. Goals without firm timelines are often left to collect dust.


I will run a marathon before my next birthday.
SMART goals outline a means to an end. The SMART criteria should be used for both mid- and low-level goals. The SMART criteria does not work for top-level goals. This is because top-level goals reflect our purpose, passion and beliefs.
The trouble with SMART goals is that we can get stuck achieving goals simply for the sake of crossing it off our to-do list. We can become obsessed with completion – always reaching for the easiest tasks. The goals then no longer push us towards a better version of our self.
Completing the right goals is more important than the number of goals you complete.
Focusing on whether a goal is worth pursuing is key to success. For this reason, implementing a BHAG or stretch goal can be a very useful practice.
Big Hairy Audacious Goals – or BHAGs
BHAGs (pronounced: bee-hags) are inspiring mid-level goals – also called 'stretch' goals. The thought of achievement brings with it feelings of excitement and fear. BHAGs should seem out of reach – a stretch. These types of goals tend to push you out of your comfort zone.
Implementing a BHAG is important because it balances the task-like nature of SMART goals with the freedom to think about big and personally meaningful things.
There are two important parts to a BHAG (5):
Extreme Difficulty: A BHAG needs to go well beyond your current ability.

For example, if you can comfortably run 5km, a goal of 10km is not a BHAG. But running a marathon (42km) is.

Extreme Novelty: To achieve a BHAG you need to step way out of your comfort zone.

You could just 'run farther'. But running a marathon is much more than you would normally be comfortable with.
The challenge with BHAGs is creating a balance. Designing a goal that challenges and inspires you at the same time is difficult. Often, audacious goals can have a moral-crushing effect. When this happens, the thought of achieving the goal seems so impossible that you may give up before trying.
Knowing where to start when approaching an audacious goal can be the most challenging part. This is why it should always be paired with the SMART system and the goal hierarchy. Using both systems allows you to break the audacious goal down into digestible pieces.
Tying the goal setting systems together
Let's return again to the goal of running a marathon by the end of the year to illustrate how to tie these three goal-setting practices together. For now, let's say you are only able to run 5km on a good day so planning to run more than 42km within the next 12 months is pretty ambitious.
Step 1: Apply the SMART criteria to this goal
Specific

You want to run a marathon in the next year. You can currently only run 5km.

Measurable

A marathon is just over 42km. This is measurable.

Achievable

Achieving this goal is going to require a lot of work, however with the right training and support it is certainly achievable.

Realistic

You are healthy and know what you need to do to run a marathon. This is a realistic goal.

Timeframe

You have given yourself 12 months to train. With the proper support, this is a very achievable timeframe.
Step 2: Determine the goal hierarchy
Why do I want to run a marathon?
To be healthy and fit.
Why is being healthy important to me?
So that I can be a more engaged parent.
Why do I want to be more engaged in my parenting?
To offer my kids the best life I can.
Why is it important for me to offer my kids the best life possible?
So they can carry on with conscious initiatives that continue to improve life for others.
Why do I want to improve life for all?
Just because.
The top-level goal in this example is:
To improve life for others.
All other goals and tasks should align with practices that improve life for others. Therefore, our goal hierarchy looks like:
To improve life for others
(purpose/passion/mission/high level goal)
|
Run a marathon – a specific goal for overcoming adrenal fatigue
(mid-level goal or BHAG)
|
All of the many sub-goals the follow the SMART criteria to lead us completing a marathon.
Step 3: Apply the SMART criteria to the subgoals
Subgoal 1: Adopt a whole-food diet for the next 90 days. This will ensure your body is receiving the non-inflammatory, nutrient-rich food it needs to prepare.
Specific
A whole food diet for a 90 day period. This is very specific.
Measurable
Whole foods come from a tree, the dirt, or an animal. Refined foods come in a bag or a box. It is easy to discern whole foods from refined foods. The timeframe of 90 days is also measurable.
Achievable
If I meal plan each week I can ensure I'm eating whole foods at every meal. I'll only shop on the outside perimeter of the grocery store to avoid temptation from sweets.
Realistic
It's going to be challenging, but I'm so motivated to do this and find out how good my body will feel. Ninety days is the longest I can go and not cheat.
Timeline
90 days
Subgoal 2: Have enough energy to run 5km without stopping.
Specific
Run 5km without stopping to catch my breath. This is specific.
Measurable
Success is measured by running a 5km loop without stopping. I'll track the time it takes to run 5km.
Achievable
It is achievable if I run four times each week.
Realistic
It is realistic if I give up Netflix and go to bed an hour earlier. Then, I can wake up earlier and complete my run on Mondays, Tuesdays, Thursdays, and Saturdays.
Timeline
I will be able to run 5km without stopping in two weeks. From there, I will add 1km to my runs each week.
In addition to the these subgoals, you may also choose to set other subgoals that are indirectly related to running a marathon. This may include such things as:
Getting eight hours of sleep each night

Getting a massage every month

Dedicating 30 minutes, three times a week to a meditation or mindfulness practice
For all the subgoals, run them through the high-level goal. Ensure each goal helps "improve life for others". If it doesn't, that goal should be re-worked until it aligns with the high-level goal.
Ok, now you have the blueprint for setting and achieving goals.
It's time to hear from you.
What is your BHAG for this year?
Learn more about finding your purpose in our other blog posts.
---
Also published on Medium.