Gluten makes you sick.
But your doctor says you aren't celiac. Could you have gluten intolerance?
Proper testing for allergies and sensitivities is complicated. There are other proteins you may be reacting to in wheat. Standard testing only looks for a reaction to one protein – gluten. However there are more than half a dozen others that you may be reacting to!
Unfortunately, conventional medicine doctors only check for celiac disease.
Non-celiac gluten intolerance
There is a condition, known as non-celiac gluten sensitivity (NCGS), that is just as harmful as celiac disease. Yet functional medicine practitioners are the only specialists who test for it.
NCGS is an immune reaction to one of the other proteins found in wheat.
It can cause a range of symptoms, some of which are very similar to celiac disease:
Abdominal bloating and pain
Chronic diarrhea
Vomiting
Constipation
Fatigue
Weight loss
Find out if you're a candidate for NCGS testing in our free ebook: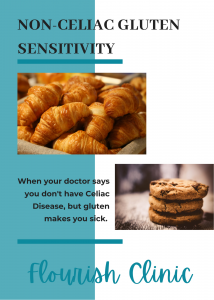 Clearing the confusion around gluten in Calgary
Every week, I hear how confusing going gluten free is. Patients don't know where to turn for help. I completely empathize with their situation.
If you want to better understand celiac disease and gluten sensitivity, start with these blog posts:
These three posts will empower you with information. By the end of them, you might know more than your doctor!
After you're finished with those posts, be sure to download your copy of our free eBook.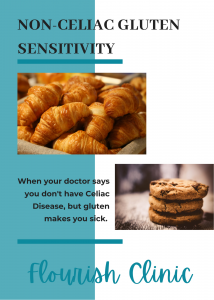 Your first step in overcoming gluten sickness in Calgary
We know what it's like when you're sick, but your doctor says you aren't celiac. We have both struggled with the same diagnosis and had to figure out our gluten intolerance on our own.
That's why we've put together this free ebook. It's a great place to start improving your health.
If that doesn't improve your symptoms, it's time to work with us directly.
We've spent thousands of hours studying celiac disease and gluten-related disorders because we have been in your shoes. That's why no one in the Calgary area has the in-depth understanding and knowledge needed to help you get better.
We will help you get your life back.