Mold sickness can have all sorts of strange symptoms.
You may experience:
Debilitating fatigue
Unusual body pains
Headaches
Sinus problems
Memory issues
Mood swings
Tremors
And many more
You may even be diagnosed with:
IBS (Irritable Bowel Syndrome)
CFS (Chronic Fatigue Syndrome)
Fibromyalgia
Multiple Chemical Sensitivities
At Flourish Clinic we have mold specialist doctor Mark Volmer. Mark is a functional medicine practitioner who works with patients who have been exposed to mold and need help getting their life back.
If you are suffering from unexplained symptoms and have no idea what to do, you're in the right place. Our Functional Medicine practitioner Mark Volmer is a mold specialist.
When most people are exposed to mold they react, but their symptoms clear up when they are no longer around mold. However, when exposed to mold about 25% of the population have the genes to develop a chronic immune response called CIRS.
When these people are exposed to mold, their body can't get rid of it. Ever. Their immune system does not turn off and they develop serious, seemingly unrelated symptoms.
Learn more about mold sickness by downloading our ebook Flourish Clinic on Mold Sickness here: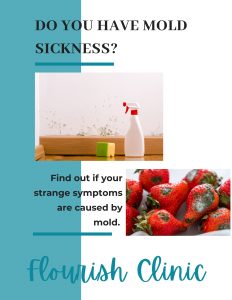 The Possible Causes of Mold Sickness
The main source of toxic mold exposure comes from water-damaged buildings. And they're far more common than you may think. In fact, up to 50% of all building structures have water damage resulting in mold growth! (1, 2)
You could be living in a moldy home and not even know it.
However, the good news is that for most people, once the mold is found and cleaned up, their mold illness will disappear.
Learn more about mold sickness by downloading our free ebook Flourish Clinic on Mold Sickness
Mold sickness and chronic inflammation
Unfortunately, it's not that easy for about 25% of the population. They have a gene that means the mold sickness lingers – even after the mold has been removed. This is called chronic inflammatory response syndrome, or CIRS.
Approximately a quarter of people have this set of genes. If this is you, it means your immune system is unable to expel the mold toxins (mycotoxins). Therefore, if the toxins never leave your body, your immune system creates inflammation.
Unfortunately, this inflammation becomes chronic. This exposure to mold can cause symptoms similar to IBS, CFS, Fibromyalgia and multiple chemical sensitivities.
If this sounds like you, it's time to work with us directly.
How we help you overcome toxic mold illness in Calgary 
We use a four-step process in all of our mold treatment protocols. These four steps move you from fatigued to flourishing:

1. Identify your fatigue-fighting nutrition plan
No templates here. We've developed a system to help you learn exactly which foods work with your body.

2. Identify and remove hidden gut issues
Even though your family doc or specialist says your gut is fine, most people dealing with mold illness have hidden gut issues. Until you identify and resolve these issues, your symptoms will remain.

3. Balance your stress hormones
Being sick for a long time creates an imbalance in your stress hormones. An imbalance in these hormones will prevent your body from healing – no matter what you do.

4. Uncover the hidden toxins making you sick
Strange substances like mold, heavy metals, and other environmental toxins could be making you sick and tired. You will not get better until you remove these toxins.
---
It's not that any one of these steps has magical healing powers. It's the synergy of all four steps working together in the correct order at the appropriate time. That's when you start to see the light at the end of the tunnel.
I know or have worked with hundreds of alternative medicine practitioners. And I've never seen any of them implement these four steps into a cohesive treatment plan for their patients.
Some do food allergy/sensitivity testing. But what happens when you remove the foods but your symptoms remain?
Others specialize in gut health. But these knowledgeable practitioners forget about the stress hormones and hidden toxins.
Most practitioners know about stress hormones. But none of them know the 3 hidden causes behind them. Instead, they load you up with herbs and supplements. None of which end up improving your energy over the long-term.
I've not yet met any practitioners knowledgeable in the realm of environmental toxins. Weird toxins are all too often the root cause of strange illnesses like adrenal fatigue. If they're not identified and removed, any treatment you do will not improve your condition.
Why you should consider working with Flourish Clinic
Care and mastery are what make the difference here at Flourish Clinic.
By the time any of our patients find us, they will have seen an average of 5 other healthcare providers. Ranging from family docs and specialists to energy healers and shamans.
Those working in the conventional medical paradigm possess a great deal of mastery. But the care found in these clinics is almost non-existent.
In alternative medicine, you'll often come across healers who truly care about your well-being – sometimes to a fault. But all too often this high level of care is married to a low level of mastery or understanding of your illness.
In order to overcome your illness, you need an abundance of care. And a practitioner with an expert level of understanding – or mastery – over your particular illness.
Care and Mastery are the foundation of the Flourish Framework. It's these values that consistently gets us outstanding patient outcomes.
We've spent thousands of hours studying mold illness and the myriad of symptoms associated with it. No one in the Calgary area has an in-depth understanding and knowledge needed to help you overcome your fatigue.
We help you get your life back
Let us be your guide.
In working together, you'll develop:
Understanding

finally, you'll realize what has been keeping you sick and tired for so long. You no longer have to keep guessing or moving from one practitioner to the next.

Reduced anxiety

you now have a clear path back to wellness.

Inspiration

You finally have the energy to be the person you wanted to be. The one who you were before you got sick.
Remember that person you used to be?
That one who had such zest for life. The woman filled with huge goals and dreams. She's still there inside you. All you need to do is remove the illness in order to let her light shine through one again.
Let us be your guide back to health.