Did you know: toxic mold can cause all sorts of strange symptoms?
Symptoms like:
Debilitating fatigue
Unusual body pains
Headaches
Sinus issues
Memory issues
Mood swings
Tremors
And much more
The mold testing and removal done in Calgary does not keep up with the latest science on mold removal. Before hiring a Calgary mold removal company, be sure to read our in-depth guide on how to properly test and treat toxic mold.
Download your free eBook on how to identify and treat toxic mold!
Do you have mold in your Calgary home? 
Using just your nose and eyes is not a reliable way to determine whether or not you have mold in your house. Mold hides in areas you cannot see or smell!
You need to utilize specialized testing to determine if your home is making you sick. Most mold testing companies in the Calgary area do not utilize accurate testing methods.
Before hiring a mold removal company in Calgary, download our free guide on mold. You'll learn how to keep your family safe from the harmful effects of toxic mold. By the end of the eBook, you'll know more about mold than most professional mold removal companies in Calgary!
What you need to know about mold in your Calgary home
I want to be crystal clear – using your eyes and nose is not a 100% reliable way to determine if your home has mold. Mold growth often occurs out of sight. Mold collects in ventilation ducts, attics, and crawl spaces. Often, these are not areas that undergo a visual inspection.
Laboratory testing is by far the most effective means in determining if you have mold in your house.
Signs that there's mold in your Calgary home
1. Your symptoms
A strange array of symptoms is perhaps the most obvious sign that there's mold in your house. The symptoms of mold illness are vast and non-specific. Often, mold illness symptoms will be diagnosed as strange conditions such as fibromyalgia, chronic fatigue syndrome, or irritable bowel syndrome (IBS).
Some of the more general – though less severe – symptoms of mold in your home include:
Headaches
Stuffy or runny nose (rhinitis)
Excessive sneezing
Painful eyes and/or altered vision
For a more detailed look at all the symptoms associated with mold, check out my post on mold illness and chronic inflammatory response syndrome. If your symptoms improve when you leave a particular building or worsen when you re-enter that same building, this is another sign that there may be mold in your house.
2. Odors
Those dealing with mold illness or chronic inflammatory response syndrome will often possess a sixth sense for smelling molds. Dank, musty smells are the hallmark signs for mold in your house. If you regularly experience a worsening of your symptoms at home combined with a musty odor, it's time to perform laboratory testing.
3. Visible mold growth
Do not rely on your vision as the sole means of diagnosing mold in your house. As I stated earlier, mold tends to collect in areas outside of your line of sight. If you're symptomatic, be vigilant in visually checking your home for mold.
Keep a close eye on taps/faucets – ensure they are not leaking. Monitor your bathroom shower and tiles for mold growth regularly. Window sills are another area where mold can collect. Change the filters in your HVAC system regularly (every 3 months). Remember, just because you can't see any mold does not indicate your home is mold-free.
4. Water leaks and/or past flooding
Mold needs a source of water or moisture in order to grow. A leaky pipe under your sink is a perfect place for mold to thrive – it's dark, damp, and temperate. The same goes for buildings/homes following a spring/summer flood.
In 2013, we experienced a massive flood in my home town. Nearly all of the downtown core was underwater. I cringe when I think about the amount of mold that's likely growing in the homes and buildings following that flood.
If your home does flood, proper moisture remediation will be essential. So will testing your home for toxic mold multiple times after remediation. Should your symptoms start after a flood, you have a reliable indicator that is pointing towards mold in your house.
Ok, these are the preliminary indications that may indicate there's mold in your house. If you're symptomatic and you experience any of the above four signs, it's time to move to laboratory testing.
Download your free eBook to learn how to perform accurate laboratory testing on your home.
Your first step in overcoming mold growth in Calgary
If you've made it this far down the page, then by now I hope you've come to the conclusion that in order to overcome toxic mold illness, you need to remove yourself from the site of exposure.
If you do this one thing, your symptoms will start improving. Test your home and work for mold. Properly.
If that doesn't improve your fatigue, it's time to work with us directly.
How we help you overcome toxic mold illness in Calgary 
We utilize a four-step process in all of mold treatment protocols. The four steps to move you from fatigued to flourishing include: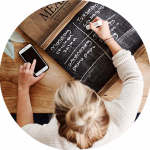 1. Identify your fatigue-fighting nutrition plan
No templates here. We've developed a proprietary system to help you learn exactly which foods work with your body.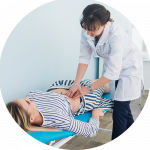 2. Identify and remove hidden gut issues
Even though your family doc or specialist says your gut is fine, most people dealing with mold illness have hidden gut issues. Until these are identified and resolved, your symptoms will remain.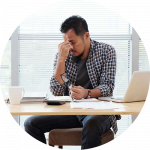 3. Balance your stress hormones
Being sick for a long time creates an imbalance in your stress hormones. An imbalance in these hormones will prevent your body from healing – no matter what you do.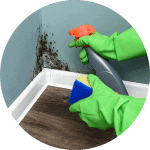 4. Uncover the hidden toxins making you sick
Strange substances like mold, heavy metals, and other environmental toxins could be making you sick and tired. Until these are removed, you're not going to get better.
---
It's not that any one of these steps has magical healing powers. It's the synergy that occurs when each of these steps is implemented in the correct order at the appropriate time. That's when you start to see the light at the end of the tunnel.
I know or have worked with hundreds of alternative medicine practitioners. And I've never seen any of them implement the above four steps into a cohesive treatment plan for their patients.
Some do food allergy/sensitivity testing. But what happens when you remove the foods but your symptoms remain?
Others specialize in gut health. But these knowledgeable practitioners forget about the stress hormones and hidden toxins.
Most practitioners know about stress hormones. But none of them know the 3 hidden causes behind them. Instead, they load you up with herbs and supplements. None of which end up improving your energy over the long-term.
I've not yet met any practitioners knowledgeable in the realm of environmental toxins. Weird toxins are all too often the root cause of strange illnesses like adrenal fatigue. If they're not identified and removed, any treatment you do will not improve your condition.
Why you should consider working with Flourish Clinic
Care and mastery are what make the difference here at Flourish Clinic.
By the time any of our patients find us, they'll – on average – have seen 5 other healthcare providers. Ranging from family docs and specialists to energy healers and shamans.
Those working in the conventional medical paradigm possess a great deal of mastery. But the care found in these clinics is almost non-existent.
In alternative medicine, you'll often come across healers who truly care about your well-being – sometimes to a fault. But all too often this high level of care is married to a low level of mastery or understanding of your illness.
In order to overcome your illness, you need an abundance of care. And a practitioner with an expert level of understanding – or mastery – over your particular illness.
Care and Mastery are the foundation of the Flourish Framework. It's these values that consistently gets us outstanding patient outcomes.
We've spent thousands of hours studying mold illness and the myriad of symptoms associated with it. No one in the Calgary area has an in-depth understanding and knowledge needed to help you overcome your fatigue.
We help you get your life back
Let us be your guide.
In working together, you'll develop:
Understanding

finally, you'll realize what has been keeping you sick and tired for so long. You no longer have to keep guessing or moving from one practitioner to the next.

Reduced anxiety

you now have a clear path back to wellness.

Inspiration

You finally have the energy to be the person you wanted to be. The one who you were before you got sick.
Remember that person you used to be?
That one who had such zest for life. The woman filled with huge goals and dreams. She's still there inside you. All you need to do is remove the illness in order to let her light shine through one again.
Let us be your guide back to health.